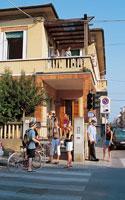 The Centro Puccini school is placed in the centre of Viareggio, a few minutes far from the beach, and so it's easy to attend Italian lessons and have moments of relax in the surrounding area. What's better than going out for a walk or sunbathing on the beach after a lesson? Well, the Italian language school Centro Puccini also schedules many interesting and fun activities for students' spare time.
We remind all the students that at Centro Culturale Giacomo Puccini facilities include:
- full internet service;
- an outdoor terrace, gazebo, and a small garden;
- wheelchair access.
If you want to enroll to Centro Giacomo Puccini, Italian language school in Viareggio, please click here!










More information about our Italian language school in Viareggio:
Our guarantees
We respond to your questions and bookings within 24 hours on working days.
A maximum of 12 students per group for all group language courses.
You can always extend your course during your stay without any extra administrative costs.
We guarantee that all students who have studied for 3 consecutive months (12 weeks) in our school will be able to apply for the DILI intermediate exam of the Accademia Italiana di Lingua. They will be able to apply for the DALI advanced exam after 6 months of consecutive studies.
Our school is certified for security standards and for access for the disabled.
Students are insured against any injury they may experience inside the school building, during the activities organised by the school and during their way to school.
Our school can provide general medical and dental assistance with English-speaking doctors.
Services for students
The school secretary is at the service of students for every information. The students can see the secretary whenever they need some extra help.
On your first course day, you receive a Scuola Leonardo da Vinci student card with which you receive discounts in various museums, restaurants, discos, internet cafés, sports facilities, etc.
We offer a pick-up service from train stations and airports. You only need to inform us one week in advance of your arrival time and place (and flight or train number).
Help and advice in case of illness.
Common room where you can meet with your fellow students.
Free Internet access.
Public telephone and Email facilities.
Free receipt of faxes and emails. Faxes can also be sent from the school for a fee.
Why us? Why our Italian language school in Viareggio?
Founded in 1988, we have years of experience and specialise in teaching Italian in Italy
The school is recognized by the Italian Ministry of Education, University and Research
The school is Officially recognized by the Swedish authorities
A young and higly motivated professional teaching facultiy all specially trained in teaching Italian to foreigners
We are members of ASILS (Association of language schools for teaching Italian as a foreign language)
All levels of Italian offered from March to October
Small study groups
Courses start every 2 weeks (including beginners)
After 3 or 6 months the AIL-exam "Firenze" (Accademia Italiana di Lingua) DELI/DILI/DALI/DALC can be taken
A whole range of activities offered for students to gain insight into the Italian culture
Meet students from all over the world while studying at Centro Giacomo Puccini
Friendly and helpful staff that give personal attention to each student
Access provided for handicapped students.
Member of Educative Associations
AIL - Italian Academy of Language (Diplomi «Firenze»)
ASILS - Association of schools of Italian as a foreign language
ELITE - European Federation of Associations for Teaching Mother Tongues
Regione Toscana - Agenzia Formativa accreditata da Regione Toscana con Codice di accreditamento LU0173
Recognised certificates
Diploma "Firenze" DELI A2 - AIL (elementary)
Diploma "Firenze" DILI B1 - AIL (intermediate)
Diploma "Firenze" DILC B1 - AIL (commercial intermediate)
Diploma "Firenze" DILI B2 - AIL (intermediate)
Diploma "Firenze" DALI C1 - AIL (advanced)
Diploma "Firenze" DALC C1 - AIL (commercial advanced)
Preparation course for CILS, University of Siena
Recognitions / Study Grants / Credits
Officially authorized by the Italian Ministry of Education.
Recognised by the German Federal State of Hamburg for "Bildungsurlaub".
Recognised by many US Universities for Academic credits.
Study Italian in Viareggio - Ask for information