SUMMARY
Duration: 5-weeks Full Immersion Summer Program
Where: Rome, Italy
When: 19 May – 21 June 2014
Tentative dates 2015: 18 May – 20 June 2015
Prices: click here
Info: This email address is being protected from spambots. You need JavaScript enabled to view it.
To enroll: visit Gustolab website
OPEN TO ALL MAJORS. *Also open to non-UMass students*
The 2014 Critical Studies on Food in Italy (CSFI) Summer Program in Rome is designed, promoted and managed by the Gustolab Institute Center for Food Studies and the University of Massachusetts Amherst.
The Critical Studies on Food In Italy Program has been given the patronage of the Expo Milano 2015 as an Academic Institution with an educational project coherent with the Expo Theme "Feeding The Planet, Energy For Life", contributing to the future generations of the Expo 2015 legacy.
Why study abroad with Gustolab Institute?
Gustolab Institute is the first Academic Center for Food Studies in Italy and study abroad programs in this field. Our headquarters and classrooms are located in the historic center of Rome, steps away from Piazza Navona. Gustolab Institute academic programs include: lectures on cultural, social and economic aspects of food in Italy; hands-on workshops with chefs, TV directors, journalists, nutrition experts; guided visits to farms, vineyards, artisanal workshops, fishing boats, coffee shops, TV studios, Food Channel TV studio, Food Magazine headquarters, Web and Advertising agencies, and more.... lots of fun! For a critical investigation of food, culture and media communication in Italy, it is not enough to read about it, you must live it.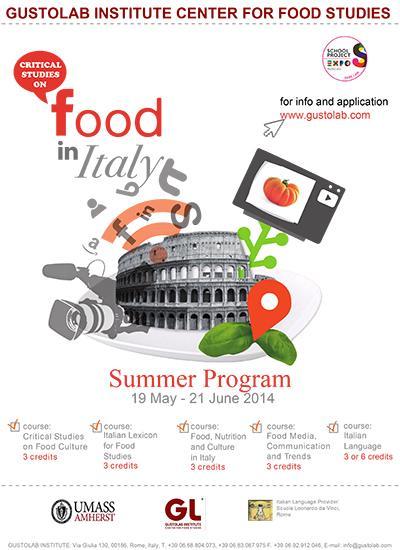 Why Study abroad with Scuola Leonardo da Vinci:
The Scuola Leonardo da Vinci is situated in the center of Rome, halfway between Piazza Navona, Castel S. Angelo and St. Peter Basilica. This typical Roman area is full of charming cafes, shops, boutiques, libraries and a vibe found nowhere else in the city. The school is located in an attractive, aristocratic and luxurious building with 13 spacious classrooms, a common room with vending machines, a computer room with free Internet access, a video room, a conference room with capacity, elevator, wheelchair accessible and central heating. It is one of the largest schools in Rome. The Scuola Leonardo Italian Language School office is open 10 hours a day (from 8am - 6pm, Monday-Friday), so that you can go whenever you need to. You will find the staff ready to help you and solve your problems. The classrooms at the Scuola Leonardo Italian Language School are equipped with different media sources, such as videotapes, projectors, CD players that allow the students to have efficient, dynamic and interesting classes. Many people visit the Scuola Leonardo da Vinci everyday making it a meeting point for the international community in Rome. Students come from more than 90 different countries (45% from Europe, 35 % from America, 10 % from Asia and the remaining 10 % from other countries). Founded in 1984, the Scuola Leonardo da Vinci has years of experience and specializes in teaching Italian in Italy. It is authorized by the Italian Ministry of Education and by the department of Education of the Lazio Region. The Italian School in Rome has obtained the International quality assurance Certificate ISO 9001:200, as a quality school of Italian language for foreigners, and has regular inspections to ensure that high standards are maintained.
The Critical Studies on Food in Italy Summer Program.
The Critical Studies on Food in Italy Summer Program in Rome and the South is both academic and experiential. It challenges students to grow on an academic, professional and personal level. The program is taught by faculty with international experience and expertise across a wide range of food and communication fields. The 5-week program in Rome introduces our students to one of Europe's most vibrant capitals, its multicultural and yet inherently European environment through the lens of food culture. The result is a life-enriching experience abroad that offers our students invaluable personal, academic and professional opportunities.
List of available courses:
Critical Studies on Food Culture (3 credits) COURSE
Course taught in English at Gustolab Institute Center for Food Studies. This course combines traditional lectures and discussion meetings with hands-on co-curricular activities and field trips in and around Rome, as well as in the Lazio region and Cilento's seaside. The course presents food in all its complex connections with culture, nutrition, environment, society, economics and politics. All course topics are accompanied by practical activities, ranging from classes in professional kitchens to food and wine pairing and tasting workshops. The lecture series is delivered by prestigious experts for each specific course topic, thus providing a dynamic learning environment with an interdisciplinary approach. Practical assignments allow students to explore and experience first-hand food culture in the streets of Rome to use and improve their Italian and make the most of their summer abroad. No prerequisites.
Activities included:
Cooking classes
1-day excursion in Agriturismo/Slow Food farm
1-day excursion to an Organic Vineyard
1 educational dinner
Wine tasting and Food & Wine pairing workshop
Eating Inside and Out tour and coffee tasting in Rome
Food street market and food shopping workshop.
Food media, communication and trends (3 credits) COURSE
Course taught in English at Gustolab Institute Center for Food Studies. This course focuses on the intersection between food and media, a connection that has elicited much interest in communication studies over the past few years. Food has become a hot topic on TV, the internet and printed media. The goal of this course is to enhance the students' competence both on the subject matter and in the practical skills necessary to produce good communication about food and wine. Students will be able to take advantage of hands-on practice with different kinds of media, including digital video. This multi-faceted course gives students a solid foundation in understanding Italy's unique media environment as well as the opportunity to utilize Rome (and Italy) as a living laboratory for producing a final portfolio of journalistic writings. Students will also complete an original video research project (Documentary production) customized to team interests. Guest lecturers include local and international journalists, writers and bloggers. No prerequisites.
Activities included:
Food and wine blogs / Workshop and creation of students' blogs
"EATainment" workshop
TV STUDIO/CHANNEL visit
Food & culture documentary production (15 hours hands-on classes: Camera, framing and shooting technique, shooting, editing, final public presentation)
Food, Nutrition and Culture in Italy ( 3 credits) COURSE
NUTRITION - NUTR 497ST (Food, Nutrition and Culture in Italy)
This course will focus on how culture and ethnicity affect dietary practices, with particular emphasis on Italy as compared to the U.S. The influence of politics on food availability and food practices will be discussed. Emphasis will also be on cross-cultural communication processes to address nutrition and cultural issues. This course is intended to provide a forum for discussion based on presentations, readings, and personal experiences. Classes will include lectures presenting new material, but will also heavily focus on in-class discussion, field experiences and synthesis of topics. Students will meet with professionals, chefs, historians, doctors and experts in the field. They will work together on research projects.

Elementary Italian Language UMASS ITAL 110 (3 credits) COURSE and
Intensive Elementary Italian Language UMASS ITAL 126 (6 credits)*
Both courses are applicable toward UMass Amherst's language requirement. Gustolab Institute Center for Food Studies collaborates with the Scuola Leonardo da Vinci Rome to provide the Italian Language courses. Higher levels of Italian language and Italian Conversation courses are available at Scuola Leonardo da Vinci. Please contact us to receive more information on this. No prerequisites.
*minimum of 8 participants must be enrolled for the INTENSIVE course

ITALIAN LEXICON FOR FOOD STUDIES (3 credits) COURSE
This course will be for students without any knowledge of the Italian language.
This course aims to teach:
technical terms,
vocabulary, and
words used in the specialized field of study and research of the Food Studies.
Students will be able to analyze product packaging, advertising campaigns, but also scientific resources in Italian language. The teacher will help the students to identify the Italian words used in the field of Food Studies. This course will also include basic knowledge and skills of grammar, to help students to easily interact with native speakers.
CREDITS
6 or 9 credit options. Academic credits for Critical Studies on Food in Italy Summer Program (CSFI) are transferred back through UMass Amherst and are widely transferable to colleges and universities across the country.

Program supervisors
Roberto Ludovico (Italian Studies Program Coordinator, UMASS Amherst) - CSFI Program Supervisor at UMASS
Sonia Massari (Gustolab Institute Director) - CSFI Program Coordinator in Rome
Elena Carbone (UMASS Amherst) Food & Nutrition Course – Professor and Advisor

All Gustolab Institute and Scuola Leonardo da Vinci Rome instructors and professors are specialized in language, literature, arts, social studies, food, Italian culture, history, nutrition, media studies and communication.

Final Program Fees for students:
PROGRAM FEE
(all students pay a program fee)
COURSE FEES
(added to program fee per course chosen)

2,649 €

PROGRAM FEE includes:

Accommodation
3-day Excursion
Rome Public Transportation card
Use of Italian phone
On-site Services
2 Dinners
Wine Tasting event
24-hour on-site Support
2-day Excursions
Textbooks and materials
Co-curricular activities Transfer from/to airport

CRITICAL STUDIES ON FOOD IN ITALY - 703 euro
FOOD MEDIA COMMUNICATION AND TRENDS - 854 euro
FOOD, NUTRITION AND CULTURE IN ITALY - 514 euro
ITALIAN LEXICON FOR FOOD STUDIES - 369 euro
ITALIAN CLASS ELEMENTARY - 369 euro
For Non UMASS students: $150 fee for credits transfer
What is included in the Program?

PRE-DEPARTURE SERVICES

Advising
Orientation Materials & Support
Social Networking (Connecting with past participants: Facebook, Gustolab.com networking)



ON-SITE SERVICES Transfer to/from airport to apartments & residence

Orientation – 1st day
Academic Program Director
Emergency On-Site Facilitator
Staff and support
Gustolab Institute Classrooms & Office in the center of Rome
Welcome & Farewell dinners
Rome public transportation card for full duration of stay (1 month + 2 weeks)
Accommodation in shared apartments (double rooms)
Social & cultural activities (including a 3-day Food and Culture excursion in Cilento - South of Italy)
Use of Italian phone



RE-ENTRY SERVICES

Re-entry Materials & Support
Post-Program Evaluation
Transcript
Development Opportunities



SOCIAL AND CULTURAL ACTIVITIES
All students are offered social and cultural activities including: co-curricular activities with specialized tutoring for 5 weeks and a 3-day excursion in the South of Italy to the Cilento region with accommodation and meals included. All entrance fees related to program visits are included. Students will also enjoy welcome and farewell group lunches/dinners.
The Academic program of the Critical Studies on Food In Italy Program has been given the patronage from the Expo Milano 2015 as it is coherent with the Expo Theme "Feeding The Planet, Energy For Life", contributing to the future generations Expo 2015 legacy.
PROGRAM 2015 TENTATIVE DATES: 18 MAY 2015 – 20 JUNE 2015
More information about the 2015 Critical Studies on Food in Italy program will be available on this page and on the Gustolab Institute website at www.gustolab.com or by emailing This email address is being protected from spambots. You need JavaScript enabled to view it..