LEARN AND GO IN SIENA! DISCOVER SIENA WITH AN ITALIAN LANGUAGE TEACHER AS A GUIDE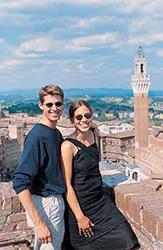 You will be accompanied by an Italian language teacher, specialized in art History, who will guide you through the most important Sienese monuments and will introduce you to the Italian language and culture.
DURATION: 3 hours
DESCRIPTION: Your instructor will welcome you at school for a brief introduction to Siena, one of the most important medieval cities in Europe. You will begin your walk along the main street, literally retracing the steps of thousands of pilgrims who traveled the ancient via Francigena on their way to Rome. As you pass the city's beautiful historic palaces, your guide will show you where to experience one of the most enjoyable aspects of sienese culture: food and wine! You will learn where to shop for and sample the best quality specialities from local providers.
Upon reaching the Campo square, you will certainly want to stop for a caffe'. The Campo, one of Siena's top attractions, is the city's pulsing heart and site of the famous Palio. Your instructor will talk to you about this unique horse race, which is held twice every summer. You will also learn about the stunning Palazzo Pubblico that looks out onto the square. Now refreshed, you will continue walking up to the Cathedral, another highlight. Siena's distinctive black and white striped Duomo has a complex history that extends from the mid 1100s to the early 14th century. From there your instructor will lead you to the church of San Domenico, all the while revealing unexpected sights, hidden corners and intriguing secrets that are often left out of the guidebooks.
The fascinating and timeless city of Siena will certainly leave its indelible mark on your heart and in your memory.
NOTES: Minimum one Participant
COSTS:
Price for 1 person: Euro 120
Price for 2 persons: Euro 75/person
Price for 3 persons: Euro 55/person
MORE INFORMATION: