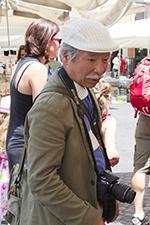 + Nazwisko: Akemi Sakamoto
+ Kraj: Japonia
+ Kurs: Dolce Vita
Moje doświadczenie z kursem La Dolce Vita w Rzymie:
"La Dolce Vita to kurs składający się z lekcji języka włoskiego, a także dodatkowych zajęć. Co prawda nie dysponowałem dużą ilością czasu, by zwiedzić wiele miejsc typowo turystycznych, ale za to miałem możliwość porozmawiać z lokalnymi mieszkańcami. Cel osiągnięty!" "