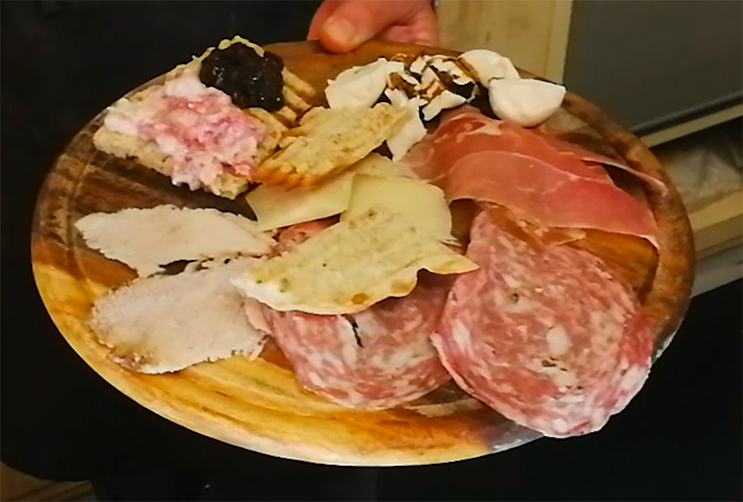 (English🇬🇧🇺🇸 translation below)
Il Tagliere Toscano è come avere
la Toscana in un solo piatto
Il "Tagliere Toscano" è un antipasto tipico della regione Toscana.
Si chiama tagliere, proprio perché questo antipasto viene servito su un tagliere di legno. Questo fantastico antipasto è composto principalmente da salumi, formaggi e i crostini toscani.
Tra le migliori selezioni di salumi toscani ci sono il prosciutto toscano, il salame, la finocchiona o la mortadella. Uno dei migliori formaggi toscani invece è il Pecorino toscano DOP fresco o stagionato. 
Il tagliere può essere arricchita da bruschette con il pomodoro o con la salsiccia, crostini di polenta fritta con funghi porcini o crostini toscani e non può mancare la mozzarella preferibilmente toscana!
Prepara il tuo tagliere come più ti piace! È facile e veloce da preparare ed è perfetto per iniziare una bella cena in compagnia di amici, parenti e un bel bicchiere di vino!
🇬🇧🇺🇸 Il "Tagliere Toscano" is like Tuscany in one dish
Il "Tagliere Toscano" is a typical appetizer of the Tuscany region.
It is called "Tagliere" precisely because this appetizer is served on a wooden cutting board. This fantastic appetizer is mainly composed of cold cuts, cheeses and Tuscan "crostini".
Among the best selections of Tuscan cured meats are Tuscan ham, salami, finocchiona and mortadella. One of the best Tuscan cheeses is fresh or aged Pecorino Toscano DOP. 
"Il Tagliere" can be enriched with: bruschetta with tomato or sausage, fried polenta croutons with porcini mushrooms and to end mozzarella cannot be missing! 
Prepare your "Tagliere" as you like! It's quick and easy to prepare and is perfect for starting a nice dinner with friends, family and a nice glass of wine!