I "FAGIOLI ALL'UCCELLETTO" (Tuscany Beans)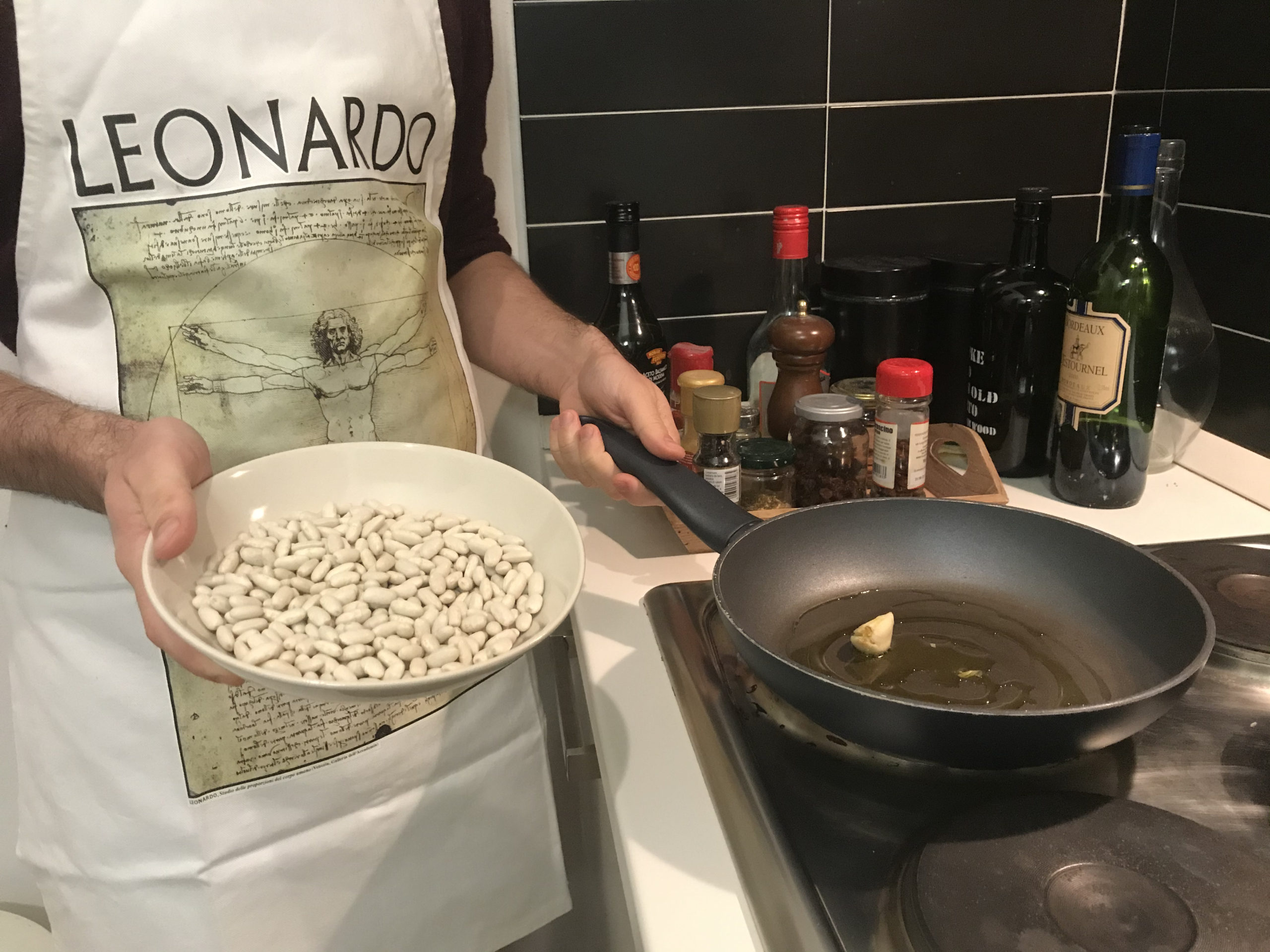 (English🇬🇧🇺🇸 translation below)
I "Fagioli all'uccelletto" (vegetariano)
La cucina toscana è solitamente associata a piatti di carne ma nella tradizione culinaria di questa regione ci sono molti piatti vegetariani a base di verdure, cereali e legumi.
I fagioli sono un legume utilizzato in molti piatti della cucina toscana, infatti esiste l'antico modo di dire "Fiorentin mangia fagioli…".
Si racconta anche che la regina di Francia Caterina de' Medici, originaria di Firenze, coltivasse nei suoi giardini reali a Parigi i fagioli bianchi di varie specie tra cui i cannellini che lei chiamò "toscanelli".
I fagioli all'uccelletto sono un antichissimo piatto contadino, i cui ingredienti principali sono: fagioli cannellini, olio extravergine d'oliva toscano, pomodori maturi, salvia, sale e pepe.
Pellegrino Artusi, unanimemente riconosciuto il padre della cucina italiana, nella ricetta n.384 del suo celebre ricettario dell'anno 1891 "La scienza in cucina e l'arte di mangiar bene" dice che i fagioli all'uccelletto devono il loro nome agli ingredienti utilizzati nella preparazione, ovvero salvia, pomodoro e aglio, con cui venivano insaporiti gli uccelletti arrosto, tipici della cucina toscana.
Per preparare i fagioli all'uccelletto secondo la ricetta tradizionale toscana:
lessate i fagioli (precedentemente ammollati per una notte) su fuoco basso e
lasciateli intiepidire nell'acqua di cottura.
In una padella fate rosolare nell'olio extravergine d'oliva gli spicchi d'aglio e qualche fogliolina di salvia.
Prima che l'aglio prenda colore aggiungete i fagioli scolati.
Unite la passata di pomodoro e i pomodori tagliati a tocchetti
Fate cuocere lentamente per circa venti minuti, girando con un mestolo di legno e aggiungendo sale e pepe.
🇬🇧🇺🇸 Tuscan Beans (Fagioli all'uccelletto)
Tuscan cuisine is usually associated with meat dishes but in the culinary tradition of this region there are many vegetarian dishes based on vegetables, cereals and legumes.
Beans are a legume used in many Tuscan dishes, in fact there is the ancient way of saying "Fiorentin mangia fagioli…" ("Florentins eat beans…").
It is also said that the queen of France Caterina de' Medici, native of Florence, cultivated white beans of various species in her royal gardens in Paris, including cannellini beans which she called "toscanelli".
"Fagioli all'uccelletto" are an ancient peasant dish, the main ingredients of which are: cannellini beans, Tuscan extra virgin olive oil, ripe tomatoes, sage, salt and pepper.
Pellegrino Artusi, unanimously recognized as the father of Italian cuisine, in recipe 384 of his famous cookbook from the year 1891 "La scienza in cucina e l'arte di mangiar bene" ("Science in the kitchen and the art of eating well") says that "fagioli all'uccelletto" owe their name to the ingredients used in the preparation, that are sage, tomato and garlic, with which roast birds, typical of Tuscan cuisine, were flavored.
To prepare "fagioli all'uccelletto" according to the traditional Tuscan recipe:
Boil the beans (previously soaked for one night) over low heat and let them cool in the cooking water.
In a pan, brown the garlic cloves and a few sage leaves in extra virgin olive oil.
Before the garlic takes on color, add the drained beans.
Finally add the tomato puree and the chopped tomatoes
Cook slowly for about twenty minutes, stirring with a wooden ladle and adding salt and pepper.