MAIN COURSE CHRISTMAS PACKAGE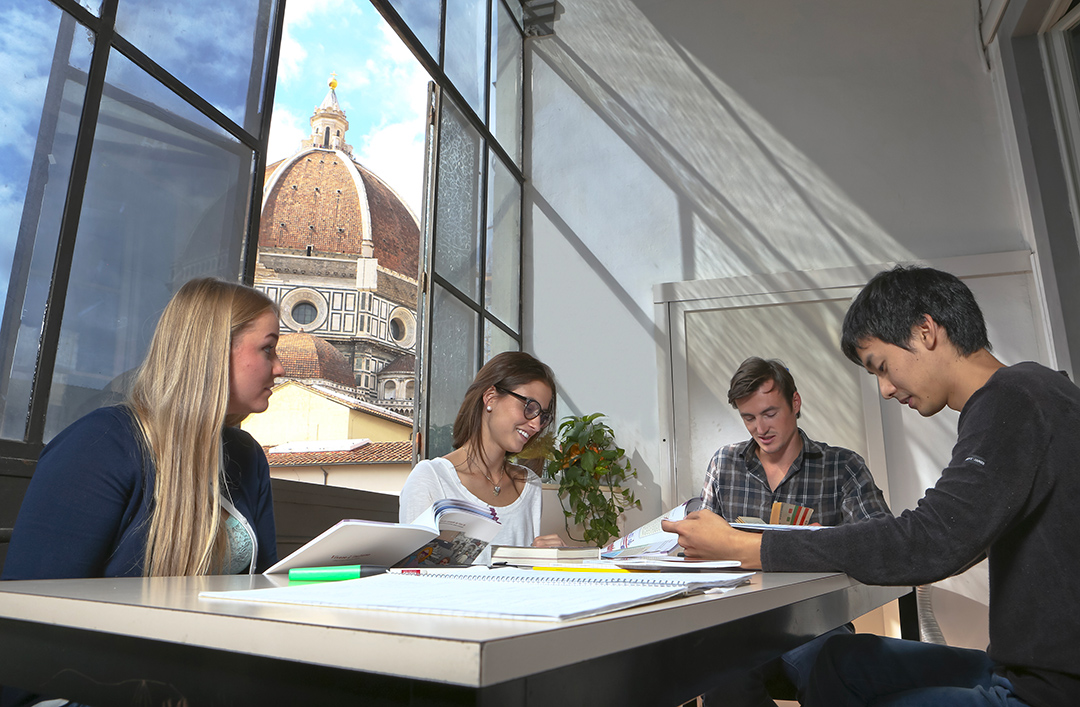 ITALIAN LANGUAGE COURSE A VERY SPECIAL PRICE!
2 weeks intensive course in Italy OR 3 weeks intensive online course OR 12 weeks part time online course for only €300 (instead €450). This package will make you save up to €150 and it will make your partner, your parents or your sons very happy.
Moreover the enrollment fee is discounted (from €70) to €30
But what is it about?
Would you like to study Italian? Take the opportunity to do it in Italy or online! With our MAIN COURSE CHRISTMAS PACKAGE you have the chance to choose between onsite (in Florence, Milan, Rome) or online courses.
ABOUT ITALIAN LANGUAGE COURSE IN ITALY
Learn Italian in Italy at Scuola Leonardo da Vinci! Our Italian language courses are designed to meet several needs: all levels, from beginner to advanced, are available throughout the year with attendance from Monday to Friday. The minimum age accepted at the school is 16 years old. The maximum number of students per class is 14 (12 in Siena); 5 in small groups.
Students who already know a bit of the language can start on any Monday of the year. Absolute Beginner courses have specific start dates. On the first day of school, students who are not absolute beginners will do a test and will be assigned to a class after the assesment of their level.
The intensive Italian language course is our standard course and consists of 4 Italian language lessons a day, totaling 20 lessons a week.
It is very recommended for students that want to learn or to improve their Italian. The intensive program leaves time for students to discover the city and to enjoy themselves.
ABOUT ITALIAN LANGUAGE ONLINE COURSES
Would you like to study Italian with us from the comfort of your own home, spend time in a good company and live an unique italian cultural experience?
Our Italian online courses are designed to adapt to your needs. Have your Italian experience delivered at your own home.
The Scuola Leonardo da Vinci school offers online Italian courses meeting all your needs and providing maximum time flexibility. Lessons are held in different bands, both in the morning and in the afternoon (GMT + 2).
Our ONLINE courses are the perfect gift for those who want to travel to Italy or for those who want to continue studying Italian from home!
They are highly appreciated by students, who describe them as flexible and effective, engaging, professional, excellent…. Read more opinions
We offer online Italian courses suitable for all needs and with maximum flexibility of schedule, the lessons are held in different slots both in the morning and in the afternoon (GMT + 2).
The chosen e-learning platform is very professional and at no cost for our students.
SPEAK ITALIAN: No matter what your starting level is, from your first day you will speak Italian in class!
INTERNATIONAL STUDENTS: You can meet people from all over the world with a shared interest live online
AGE: Our courses are suitable for both young people and adults of all ages.
AS IN FACE-TO-FACE COURSES: Our highly qualified teachers provide a dynamic and supportive environment for learning.
ENGAGING AND INTERACTIVE: You only need a broadband internet connection, a computer with webcam / tablet / smartphone.
OUR TEACHERS ARE ALL ITALIAN NATIVE SPEAKERS: With them you can immerse yourself in the culture and in the true Italian lifestyle. It's like being in Italy, all of us together, anytime!
You can find more details about our online courses on our website: INTESIVE (every day) or PART TIME (2 day a week). Ask for more information or book now to get the special offer.
Check out our "Italian Menu" for Main Courses