ICE CREAM (gelato): AN ITALIAN PASSION!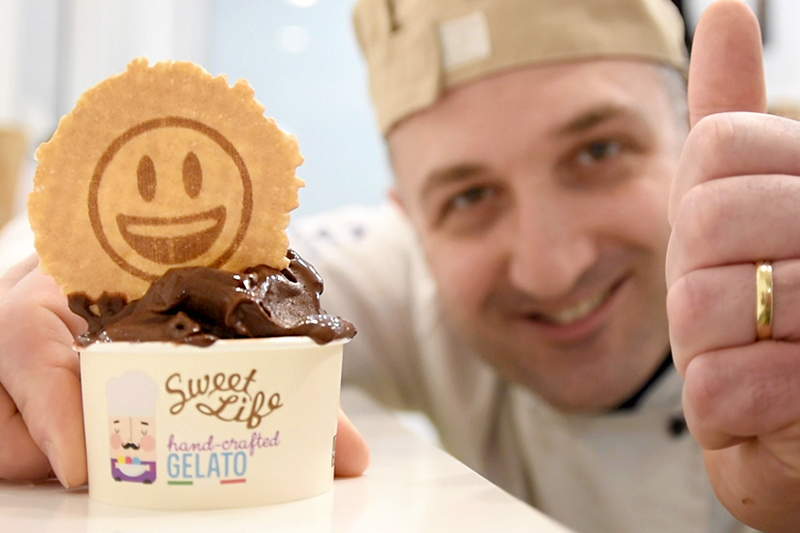 (English🇬🇧🇺🇸 translation below)
GELATO, CHE PASSIONE!
Chi non ha avuto, fin da bambino questa passione del gelato? E siamo contenti di averla potuta coltivare tutta la vita, in un paese come l'Italia, dove siamo famosi per il nostro gelato artigianale.
Si dicono tante cose su chi ha inventato il gelato ed è ovvio che a noi italiani ci piaccia essere orgogliosi di quella, tra le storie, vera e documentata del Sig. Procopio, chef siciliano che nel 1686, inventò la prima macchina per farlo, portando la sua esperienza fino a Parigi, dove fondò per questo il famoso caffè Procope.
Oggi abbiamo deciso di farvi vedere la sua produzione, ad opera del sig. Leonardo, mastro gelatiere che ha il suo laboratorio vicino alla nostra scuola e perciò amatissimo da tutti i nostri studenti.
E a lui abbiamo chiesto di farci il suo gelato, in onore della tradizione siciliana e dei prodotti di quella terra, dato che al sig. Procopio siamo e saremo sempre, come cittadini del mondo e golosi internazionali, debitori. Il gelato di oggi in produzione è quello di un prodotto "top" di quella generosa terra, e cioè il cioccolato fondente di Modica.
Questo è un raffinatissimo tipo di cioccolato , ricco di almeno il 75% di cacao cotto a bassa temperatura e quindi di di consistenza granulare, fatto con zucchero di canna ed impreziosito da cannella, vaniglia, zenzero o peperoncino. Che ve lo mandiamo a dire: un cioccolato veramente "emozionante" ! Vediamo adesso come Leonardo ce lo trasforma in gelato.
E sia chiaro a tutti che il prodotto di tanto lavoro, con tante grazie a Leonardo… ce lo portiamo a casa noi stasera!
🇬🇧🇺🇸 ICE CREAM: AN ITALIAN PASSION!
Who has not been loving ice-creams since he was a child? Italy has such a devotion to this sweetness to the point that its tradition of homemade ice creams is known worldwide.
Many stories are told about is origins and of course we're proud of the evidences that a Sicilian Pastry Chef, Mr. Procopio, invented the first ice cream maker machine in 1686, bringing it and his experience to Paris, where he founded the famous Procopio Cafè.
Today we would like to show you how Mr. Leonardo, master ice cream maker prepares the fresh handmade ice-cream, loved by so many of our students, in his laboratory next to our Rome School.
We asked him to prepare his special ice cream in honor of the Sicilian tradition and of its local products, as we all, international gluttons, will always be grateful to Mr. Procopius.
The ice cream in production today is in fact prepared with the famous Modica's Dark Chocolate, a very refined chocolate with at least 75% of cocoa cooked at low temperature, with a granular consistency, made with cane sugar, enriched with cinnamon, vanilla, ginger or chili pepper.
Let's see how Leonardo transforms this "exciting" chocolate into a unique ice cream that, obviously we'll take home tonight!