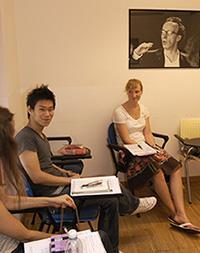 Learn Italian at Scuola Leonardo da Vinci, our Italian language courses are designed and engineered to meet several needs: depending on the number of classes per week, either in group or individual lessons.
All levels, from beginner to advanced, are available throughout the year with participation from Monday to Friday. The minimum age accepted at the school is 16 years old. The maximum number of students per class is 14 (12 in Siena); 5 in small groups.
Students who already know a bit of the language can start on any Monday of the year. Absolute Beginner courses have specific start dates. On the first day of school, students who are not absolute beginners will do a test and will be assigned to a class after the assesment of their level.