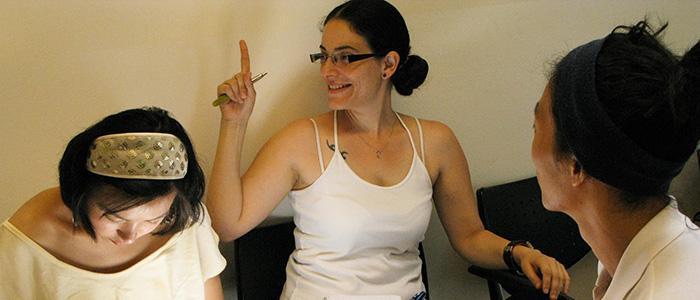 Intensive Italian language course. The intensive Italian language course is our standard course, and consists of 4 Italian lessons a day, totaling 20 lessons a week.
The lessons are held from Monday to Friday in groups of no more than 14 students, led by qualified teachers, who are passionate about their work.
The lessons begin every Monday for students that already have some knowledge of the Italian language, and every two weeks for absolute beginners.
Our lessons are principally based on spoken communication, but also deal with the more formal aspects of the language (lexis/vocabulary and grammar). Lots of time is dedicated to activities that encourage dialogue and discussion about various topics, from art and literature, to modern city culture.
Text books are provided by the school and are included in the price of the course. The teachers use not only these text books, but also other support materials (newspaper articles, songs, films and other authentic material from everyday life) to give students the opportunity to engage with different forms of contemporary communication and to improve their communication abilities.
Our golden rule is: the teacher is the director, but the group of students are the real protagonists of the lessons.
RECOMMENDED FOR: those students who want to either start or go on studying Italian through an intensive program that still leaves plenty of time to discover the artistic and historic marvels of the territory and also to have some fun!
The lesson groups are made up of people from all over the world and from different age groups.
Apart from studying the language, there is still lots of time for culture, sport and fun! The school organizes loads of extracurricular activities in the afternoons and evenings, allowing students to discover the city, visit museums and exhibitions and to enjoy daily life! In addition, there's a cinema discussion group, weekend excursions, visits to typical wine cellars and workshops, group 'aperitivi' drinks, and trattoria dinners…because part of learning a language is also living and enjoying the culture! Have a look at our list of city by city programmes.
And remember that the more that you stay with us, the more that you save! Have a look at our reduced rates for stays from 5 to 48 weeks:
DuratION
LeSSonS
PRICES 2022
PRICES 2023
PRICE PER WEEK
Ask for More Information | Online Price Calculator | Enroll now
1 week
20
€ 225
€ 225
€ 225 per week 2022
€ 225 per week 2023
2 weeks
40
€ 380
€ 400
€ 190 per week 2022
€ 200 per week 2023
3 weeks
60
€ 570
€ 600
€ 190 per week 2022
€ 200 per week 2023
4 weeks
80
€ 760
€ 800
€ 190 per week 2022
€ 200 per week 2023
5 weeks
100
€ 825
€ 850
€ 165 per week 2022
€ 170 per week 2023
12 weeks
240
€ 1.860
€ 1.920
€ 155 per week 2022
€ 160 per week 2023
24 weeks
480
€ 3.240
€ 3.360
€ 135 per week 2022
€ 140 per week 2023
48 weeks
960
€ 5.520
€ 5.760
€ 115 per week 2022
€ 120 per week 2023
The experience of Paull-Anthony Keightley

+ Name: Paull-Anthony Keightley
+ Country: Australia
+ Course: Intensive
My experience with the Italian language intensive course:
"In four weeks I relearned a lot of basics that I forgot. And I started to think in Italian that was the main goal I was aiming for."