Finding comfortable accommodation for our students is one of the many services that our schools offer without charge. Accommodation is regularly inspected by our school. You can choose between the following available options: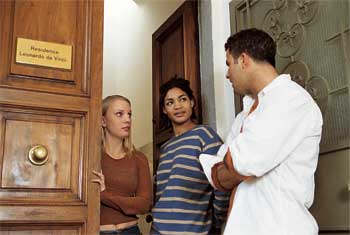 Accommodation in a family: single or double room, with breakfast or half-board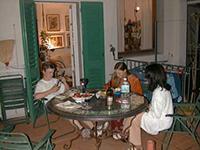 When choosing families, we do not look for luxurious accommodation, but rather Italian families that happily welcome foreign students. In addition, the word 'family' should not just be understood according to its traditional definition: family can also mean a couple without children or a single father or mother who simply enjoy the company.
Meals
you can choose between breakfast or half-board (breakfast and dinner). You will eat with the family, but remember that the habits and routines of Italians may be different to your own. Generally, breakfast is coffee or tea with bread, butter or marmalade. Dinner is a full meal that is served around 20.00.
Rules of behaviour if living with a family
Living with a family gives you the unique opportunity to integrate yourself in Italian culture and the way of life, but there are a few necessary compromises to be made between you and the family that host you. There are some rules that you must follow: keep your room tidy; do not wake up the family when you come home after midnight; do not use the personal items of the family without permission; do not use the kitchen for your own purposes; the use of the washing machine is not included, so you cannot use it without permission of the owner; the use of the iron is permitted without charge; you are permitted to use the common rooms and to receive telephone calls; the room (if it is not locked) will be cleaned every day.
Accommodation in a private apartment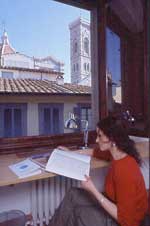 Private apartments are more comfortable than shared apartments, but also more expensive. They are available for one person or two people. Prices are available upon request. Remember that private apartments must be booked in advance and that their prices can vary according to the city and time of year. The Leonardo da Vinci School only deals with bookings. The rent must be paid directly to the landlord of the apartment, but your credit card number is needed to make a booking.
Accommodation in a hotel
We are in contact with hotels located near to our schools (the basic offer is for bed and breakfast every day- a room with a shower or bath). Prices for hotels are available upon request and vary according to the category chosen:
Luxury category (5 star hotels): all comforts;
1 Category (4 star hotels): restaurant, bar, room with air conditioning, TV, bathroom
2 Category (3 star hotels): room with air conditioning, TV, bathroom;
3 Category (2 star hotels): room with bathroom;
4 Category (1 star hotel): room with basin, bathroom is on the same floor.
Generally, we book rooms from the Sunday before the start of the courses, until the Saturday after the end of the course. Different arrival and departure days upon request. The Leonardo da Vinci School only deals with bookings. You must pay the bill directly to the hotel reception, but your credit card number is necessary to make a booking.
Accommodation in a residence
These are apartments with one, two or three rooms. In each room there are one, two or three beds, there is also a kitchen / living room, bathroom with shower, air conditioning, television and a daily cleaning service. Upon request there are extra services: parking, breakfast, a secretary and a safe for your valuable objects. The Leonardo da Vinci School only deals with bookings. You must pay the whole amount directly to the reception of the residence, but your credit card number is necessary to make a booking.
General Information about Accommodation
Sharing a room with another student
we suggest booking a 'place in a double room' only if you are a young student (maximum 30 years old). Our experience has taught us that older people find it difficult to share a room with younger people who often have different routines and habits. There is an option available for you to come together with a friend and to share a double room, provided by the school, even if your friend is not a student at our school.

Deposit for shared apartments
you must pay a deposit of 100 Euros to receive the key of a shared apartment. The deposit must be paid upon arrival, in cash or traveller's cheques and it will be returned to you on your departure, minus any costs for necessary repairs or cleaning.
Availability
• Housing check in: Sunday afternoon before the start of the course, from 2pm to 10pm. For arrivals after 10 pm there is an extra charge of 25 Euro.
• Housing check out: Saturday morning at the end of the course, until 10am.
Different arrival or departure days only by special arrangements and on extra charges.
Extra night on arrival and departure:
Extra nights of earlier arrivals and later departures can be reserved. Please contact the school for arrangements and for information on extra charges. Different arrival or departure days must be confirmed in writing.
• However, it is not possible to arrive earlier than the Saturday before the start of the course and to remain later than the Sunday after the end of the course.
• Remember that the schools are closed for Christmas Holidays. Students can, however, book accommodation for this period on extra charges.
Date and Time of Arrival / Urgent
we must be informed of the date and time of your arrival at least 4 days in advance. After having received the address of your accommodation, you must contact the owner (by telephone) of the accommodation or our school (by telephone, fax or email) to inform about the date and time of your arrival. In this way, we will only have to wait a short time for you to arrive. If we do not receive this information, you must arrive after 18.00.

Location / Keys
will take you 15 - 25 minutes (in Milan and Rome, up to 50 minutes) to travel from the suburbs to the city centre on public transport. If your accommodation is in the city centre, it will take you around 15 minutes to walk to school. You will have your own house keys and you will be independent from other flatmates.
Booking and payment
to book accommodation, we will need your credit card number as a guarantee. Accommodation fees must be paid as soon as you arrive in Italy. Payment must be made in cash or with travel cheques of the whole amount (not through part payment).

Sheets / Towels / Laundrettes
Bed-linens are provided and changed every two weeks or, in alternative, upon arrival each student will be given a set of bedlinens, two sets if they stay for a longer period. In this case students will wash bed-linens themselves. You must bring your own towels.
Washing clothes by hand is allowed without any extra charge. The use of washing machines is not included, but you can use one of the many automatic launderettes situated throughout the city.
Parking
Garages and car parks that you pay to use, are easy to find in the city centre or in the suburbs. There are weekly or monthly passes available, which cost less. You can ask your landlord where the nearest garage or car park to you is located. You can also park your car in the street, but you must check the signs/boards or ask the landlord when the street is cleaned (the day of the week when the roads in the area are cleaned). During these days, you must park your car in another area, or it will be taken away.

Photocopy of passport
following the attacks of September 11th 2001, the Italian Authorities have intensified border controls for foreigners. The result is an increase in the amount of documents needed. In Italy, all landlords of apartments must declare the presence of tenants and so need a photocopy of the passport of each tenant. We advise you to bring a photocopy of your passport.
For further information about our accommodation service prices, please click here.
Study Italian in Italy - Ask for information