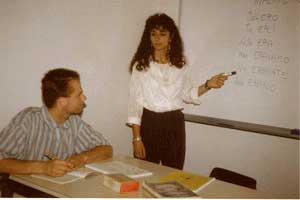 Starting dates:
every weekday
Duration:
at least 1 week
Lessons:
3 to 8 per day, 15 to 40 per week
Schedule:
Monday to Friday: 9 am to 6 pm
Tuition:
1 teacher, 1 student;
1 teacher, 2 students;
1 teacher, 3 students.
Offer:
personalized, business oriented, lunch with the teacher, special management courses
Level:
From absolute beginner to highly advanced level.
Dates and Prices
If you want a course that suits your particular professional and personal needs, as well as your own time schedule, we suggest you choose our tailor-made private tutorial programme.
Continual language practice, maximum concentration through intensive work with your personal teacher and, especially, active practising of your communication skills guarantee you swift progress and success in the shortest possible time.
Thanks to our proven individual system "LinguaKit", we are able to plan your private tutorial according to your needs regarding dates and areas of interest.
Starting dates
You can start the course on any weekday of the year, however, we suggest you begin on Mondays. Private lessons during the week of Christmas and New Year only on request.
Duration
Minimum enrolment term is 5 days which can be extended according to your wishes.
Minimum 3 to maximum 8 lessons per day; the course intensity may be changed from week to week. Private tutorial can also be chosen by two or three friends or family members, if they have the same knowledge ot italian (two-to-one, three-to-one).
Lunch with teacher
If you wish, the private tutorial can also be organised to include lunch with your teacher. Thus you are able to continue practising the new language during the lunch-break.
Professional courses
Should you already have sufficient knowledge of Italian, you can also learn vocabulary oriented to certain professions, such as general business Italian, banking, trading, import/export, law, insurance, marketing, medicine and so on.
Individual preparatory course for Italian examination
If you would like individual preparation for the "Firenze" Diploma examinations and to take the exam on a special date, please get in contact with our school centres for further information.
Some of our clients
AFRICAN AIRLINES, AMERICAN EMBASSY, APPLE MACINTOSH, BANCA D'AMERICA E D'ITALIA, BANCA SVIZZERA ITALIANA, BALAIR, BASLER ZEITUNG, BBC LONDON, BERLITZ, BILD, BRIGITTE, CHINA AIRLINES, CIBA GEIGY, CREDIT SUISSE, COCA COLA, COSMOPOLITAN, DAIMLER-CHRYSLER, DANZAS, DEUTSCHE BANK, DEUTSCHE BOTSCHAFT, DEUTSCHE BUNDESBAHN, ELECTROLUX, ERNST & YOUNG, ETIENNE AIGNER, FAO, FERRERO, FRANKFURTER ALLGEMEINE, GOLDWELL, HAKLE AG, HARRODS LONDON, HERALD TRIBUNE, KUWAIT PRETROLEUM, IBEROTEL, IKEA, IKRK, LAL GMBH, LUFTHANSA, MERCEDES BENZ, NORTH AMERICAN COLLEGE, PLAYTEX, PREH GMBH ELECTRONICS, RECONTA, SCHWEIZ HOTELFACHSCHULE LAUSANNE, SIEMENS, SONY, SRG, SWISS. PARLAMENT, SWISSRE, SYSTIME, SWISSAIR, TAGES-ANZEIGER, THE LORD MAYOR OF SYDNEY, TOURIST UNION INTERNATIONAL, TOYOTA, TWA, UBS, UNITED NATIONS ORGANISATION, VOLKSWAGEN, ZURICH VERSICHERUNGEN