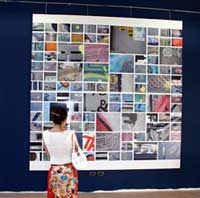 Starting dates: please click here
Duration: min. 4 weeks
Lessons: 425 lessons
Tuition: on all 6 (monthly) ability levels
Class size: max. 12 participants
Prices: please click here
Preparatory Semester
The Preparatory Semester is designed for high school graduates who need to improve their language skills and intend to enrol in one of NABA's three-year Bachelor of Arts (BA) degrees or making a semester experience into the italian design. The semester gives students a basic introduction to our curricula in Painting and Visual Arts, Graphic Design and Art Direction, Design, Fashion Design, Media Design and Multimedia Arts. For international students that desire to enter the Italian BA pathway, the Preparatory Semester will develop proficiency in Italian language so they can get the most out of studying at NABA and in Milan. Carefully calibrated modules facilitate a gradual acquisition of increasingly advanced language skills. The admission test will be offered during NABA July session.
Learning Outcomes
Intense academic and non-academic cultural activities will enhance students' independent critical thinking and help them decide which academic path suits their ability, aspiration and potential. Students will also achieve a good working knowledge of the Italian language. This is vital in order for them to benefit completely from studying in Milan and from integrating fully in the Italian cultural environment. A final test will be administered for admission into the NABA Bachelor of Arts programs. Students who complete the Preparatory Semester acquire the skills to pass the entrance exam.
Italian Language
A total of 300 lessons spread along the curriculum together with other International students to begin the language learning process in a multicultural environment. A final test will be considered valid to fulfill NABA Italian language requirement to be admitted into the BA programs.
Orientation
Orientation on life in Milan, safety in Milan, transportations and assistance with all the bureaucracy (e.g. Permit of Stay) connected with settling in.
Italian Contemporary Society
The 20 lessons course deals with the history of Italian society from the Fascist dictatorship (1922) to the present. The aim of the course is to understand, through history, Italian society and the Italian way of life. There will be a special focus on the city of Milan.
Drawing Lab
How to draw. Introduction in 30 lessons on basic drawing techniques that provides the foundation for all the Design and Fashion courses. A course that will focus on sketching, manual and free style drawing.
Graphic Design Lab
The course of 30 lessons aims at experimenting with brand design thereby providing students with the fundamentals of digital graphic design. Brand Design is, therefore, the meeting point of different communication fields and design areas such as graphic design, advertising, new media, etc. The starting point of the course will be the analysis of one or two important and significant brands that will be shown and commented. Successively, the students will work in pairs to research on the specific assigned brand. This research will be a brand watching, like a "photography safari" in Milan. The results will be discussed all together in the classroom. At the end of the work with the professor's assistance, each group will define a "new product brand" suggesting naming, lay-out of logo and advertising page.
Portfolio creation
After a 3-hour lecture on the main guidelines on how to prepare a successful and valuable portfolio, students will be offered the possibility of making individual appointments with a portfolio specialized tutor that will offer them guidance on how to revise the portfolio and adapt it to NABA standards.
Summer Courses
At the end of the Semester, students may choose from NABA offer a two-week, 45 lessons, intensive summer course in the fields of Drawing, Design, Fashion or Graphic Design.