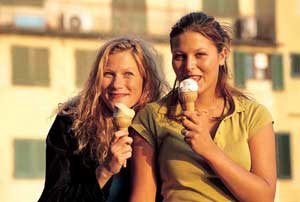 Summer is the best season to travel in Italy!
What better than a language travel to Italy during summertime?
You can enjoy the Mediterranean climate and the Sun, while you're learning Italian in a country where people love to enjoy outdoors their free time during spring and summer.
Scuola Leonardo da Vinci offers Italian language courses all year round.
In summer you can enjoy the activities organized by the schools to visit Italy, discover Italian culture and art, taste Italian cuisine and wines and, above all, to get fun with your friends and other students.
Discover here down the special courses offered during this time.
If you are between 11 and 16 years old, an international junior summer camp experience in Campania, a beautiful Italian region famous for its seaside and nice food, surrounded by olive trees and clear blue sky, will give you the unique opportunity to learn Italian in an active way, to enjoy sports and make friends from all over the world.
Our Teens International Camp, located in Ascea Marina (inside the Cilento Park, Unesco heritage) in a fabulous natural setting, is the perfect answer to live an unforgettable experience, combining social and recreational activities, sports and language learning in a fun and easy way, always supported by professional educators, sports' trainers and group leaders, to ensure the best and safest study-holiday to everyone.
Read more about our Junior summer camp in Italy
ITALIAN LANGUAGE SUMMER COURSES
Not enough? Find your Italian language course! Here down the wide choises of Italian language courses we offer and the summer dates to start your language program in our schools in Florence, Milan, Rome and Siena.
SUMMER STARTING DATES 2014
MAY
05*
12
19*
26
-
JUNE
03*
09
16*
23
30*
JULY
07*
14
21*
28
-
AUGUST
04*
11
18*
25
-
SEPTEMBER
01*
08
15*
22
29*

* Starting Dates for absolute beginners.
What are your needs? Contact us through our information form and we'll be glad to help you!