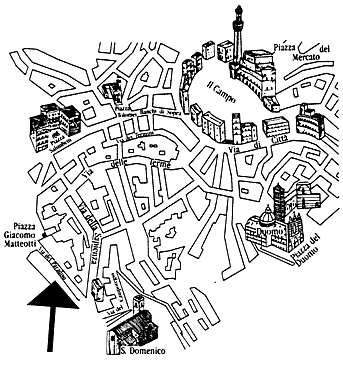 How to get to our School in Siena
Arriving from Florence airport
The Amerigo Vespucci airport of Florence (FLR) has links with the major international airports as well as those of Milan and Rome. Direct buses from the airport to the main train station in Florence (Firenze SMN), and return: Vola in bus. The journey time is approximately 20 minutes. From there you can go to Siena by train or bus.
For those who arrive from Florence by bus

The most convenient way to get to Siena from Florence, is by bus. The bus station, called SITA, is located right next to the train station, in Via Santa Caterina da Siena. You can't reserve seats, just buy a ticket at the bus station. The last stop in Siena is Piazza Gramsci, in the city center.
Arriving from Florence by train

The central station of Florence "Santa Maria Novella" (Firenze SMN). From here, you may want to take a direct train to Siena. Alternatively, there are trains to Empoli, where you need to change and take the train to Siena. The main train station in Siena is located outside of the city, and it's a long uphill walk to reach the city center. City buses traveling several times an hour, but they are not very practical for travelers with luggage.
Arriving from Pisa
Inside the Pisa airport "Galileo Galilei" (PSA), there is a train station where you can catch a train to Florence, changing at Empoli to get to Siena. There is a train connection from Pisa to Siena about every 2 hours and the journey time is approximately 2 hours and 30 minutes. In addition there is a convenient direct bus from Pisa to Siena, but there is only one daily departure to the airport.
Arriving from Rome
From the Rome airport "Fiumicino-Leonardo" (FCO), there are direct trains to the main train station (Termini) or to the railway station "Tiburtina". From "Termini" you can travel by train to Siena, change at Chiusi-Chianciano. Please note that the trains between Siena and Chiusi make several stops in small towns (Montepulciano, Sinalunga and Asciano included). From the railway station "Tiburtina" you can also take a direct bus to Siena (company SENA). There are 7 trips a day from Monday to Saturday and 5 journeys on Sundays. The journey time is approximately 3 hours.
For those who arrive by car
Arriving from the North: Take "Chiantigiana" from Florence (SS 222 to 72 km) which crosses the hills of Chianti or the highway (SS 2 freeway Siena / Florence - 68 km).
Arriviving from the South: Take the highway from Rome (A1 Rome-Florence, exit Val di Chiana), turning right along the highway No. 326 (Bettolle-Siena - 240 km).
Transfer to accommodation
We suggest you to take a taxi once you arrive in Siena. They are readily available at the taxi rank opposite the airport or in front of the station. Don't worry if you don't know the language! It's sufficient to give the address of your accommodation to the driver. Attention: always take white or yellow taxis that have meters. Private taxis can ask you excessive pricing.
On request Scuola Leonardo da Vinci offer you a transfer service from the airport / railway station to the accommodation. Should you request a transfer, we ask you to indicate it on the enrolment form or write to us at least one week before arrival. Click here for more information.