CILS B1 FOR CITIZENSHIP EXAMINATION
Since December 2018, in order to apply for Italian citizenship, a B1 certificate is required to demonstrate your level of knowledge of the Italian language.
CONTACT US
CILS B1 FOR CITIZENSHIP EXAMINATION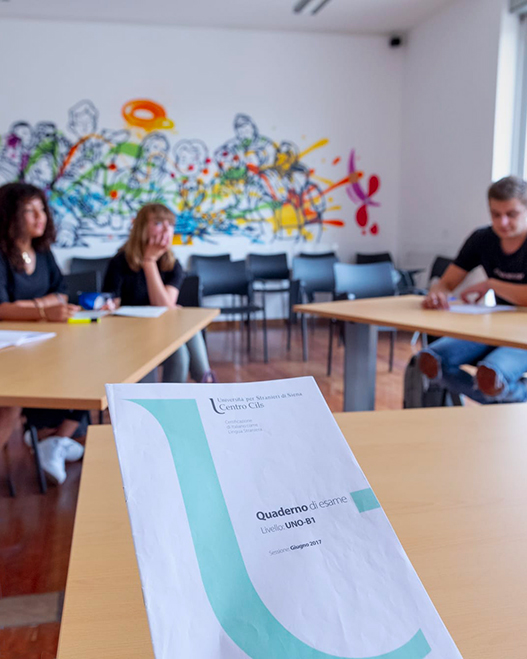 It is possible to take the CILS B1 citizenship exam at our schools, that is required for the Italian citizenship application and we also offer a preparation course for it.
The Leonardo da Vinci School is a recognised centre for the CILS certification exams and is authorised by the University for Foreigners of Siena.
At the Leonardo da Vinci schools you can:
- sit the exam on the official dates stipulated by the University for Foreigners of Siena;
- take a preparation course in order to be able to sit the exam.
The CILS exam preparation course can be taken:
- in a group (consisting of 20 lessons);
- on an individual basis (15 lessons).
NB: the B1 citizenship exam is essential for those who apply for citizenship and subsequently have to present the original documentation at the police station ('questura'). This exam is not suitable for work-related and academic purposes. For those who need the B1 certification for work or academic reasons, it is necessary to take the B1 exam (see our specific preparation courses).
SCHOOLS WHERE YOU CAN TAKE THE EXAM AND THE PREPARATION COURSE FOR THE CILS B1 CERTIFICATION
CILS B1 CITIZENSHIP EXAMINATION DATES
Next exams dates:
February 16th, 2023

April 4th, 2023

June 8th, 2023

July 20th, 2023

October 19th, 2023


December 5th, 2023
The Scuola Leonardo da Vinci schools are official exam centres, recognized and authorized by the University for Foreigners of Siena for the CILS certification exams.
PREPARATION COURSES
Course start dates: on request
Total number of lessons: 20
Level: B1
Class numbers: minimum 4 and a maximum of 15 students per class
Frequency of group courses: 2 lessons per week.
PRICES FOR THE CILS B1 CITIZENSHIP PREPARATION COURSE
Group course
4 weeks
€ 280
Individual course
15 lessons
€ 675
PRICES OF ALL PREPARATION COURSES FOR THE CILS EXAMS
Scuola Leonardo da Vinci - Italian language schools in Italy

TYPE OF COURSE
DURATION
ITALIAN LANGUAGE LEVEL
PRICES 2023*
PRICES 2024*
Ask for More Information | Online Price Calculator | Enroll now
Group course
5 weeks
(25 lessons)
A1 – A2 – B1 – B2
€ 375
€ 400
Group course
6 weeks
(30 lessons)
C1 – C2
€ 450
€ 480
Group course
4 weeks
(20 lessons)
CILS B1 for the citizenship examination
€ 260
€ 280
Individual course
15 lessons
A1 – A2 – B1 – B2
€ 675
€ 675
Individual course
20 lessons
C1 – C2
€ 900
€ 900
Short Description

Course dates: click here
Participants: min. 4 - max. 15 participants per group; If the minimum number of students is not reached, the following reductions will be applied: 1 student = 7 lessons; 2 students = 14 lessons; 3 students = 20 lessons.
CILS Examination fees not included: A1 & A2 = 40€; B1 = 90€; B1 Citizenship = 100€; B2 = 105€; C1 = 135€; C2 = 160€. An additional administration fee of 30€ has to be paid for exam registration.
Group course attendance: 2 meetings per week.
A €70 enrollment fee valid for 12 months must be paid for any enrollment.

Course centers


The CILS preparation courses are offered by our schools in Florence, Milan, Rome and Turin