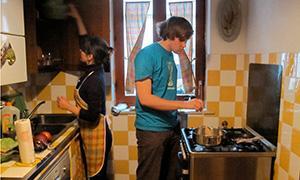 Scuola Leonardo da Vinci can help you book the accommodation you want during your stay in Siena: there are so many options to choose from according to your needs and your budget. Choose your ideal setting here and contact us for any further information.
FAMILY
In the heart of the historic centre or a comfortable and quiet residential area, our host families (consisting of a few people, or often, someone living alone) offer students comfortable accommodation. Students may choose from two options: either half board (breakfast and dinner included) or breakfast only. The coexistence between student and "family" requires the student to have a degree of flexibility and the ability to adapt to habits and lifestyles certainly different from their own. At the same time, this setting offers an unparalleled opportunity for total immersion in the language and Italian culture. Our Sienese families are sociable and friendly; ready to welcome our students and make them feel as if they were at home.
SHARED APARTMENTS
Our shared apartments are comfortable and welcoming. They are located in the city centre, a short walk from the school, and are suitable for students of all ages. By living together with people from all over the world, students will be able to make new friends and continue practicing and speaking Italian, even after the lessons.
At the same time, thanks to the comfortable accommodation of a single room, students will not have to give up their space and their privacy because in Siena usually the apartments are not occupied by more than 4-5 people. The common use of the kitchen makes the shared apartment ideal for those who want to cook their own meals which can be enjoyed either alone or with new friends.
For those who come to Siena accompanied by a friend or a partner, the ability to reserve a comfortable double room is available.
PRIVATE APARTMENTS
Students who want more independence and privacy are sure to appreciate our comfortable and cosy private apartments, tastefully furnished and equipped with every comfort.
These apartments are located generally in the centre, a short distance from the school. Either a studio, which can be suitable for a single person, or a bigger apartment which can accommodate groups of friends or families.
As the number of private apartments is limited, a reservation is recommended in advance therefore students should contact the school as far in advance as possible, especially during the high season such as in the days of the Palio. Prices, given upon request, vary according to season, length of stay and the characteristics of the apartment. Often a deposit is required upon arrival, and sometimes the cost of electricity and water are not included.
LIVING IN THE COUNTRY
For those who want to fully experience the tranquillity and beauty of the countryside around Siena, a stay on a farm is definitely the best choice. Away from the hustle and bustle of the city centre and surrounded by nature, students will be able to enjoy long sunny days, walks, maybe a refreshing swim in a pool. Students may stay in warm, rustic facilities, equipped with every comfort such as a private bathroom or Internet connection. All this in small family businesses where you can sample and taste the genuine local products and where you will experience, without a doubt, the warmth of Tuscany.
This type of accommodation is recommended for those who have their own car because the villages and the countryside around Siena are not connected to the city centre by public transport.
Prices are given on request and vary depending on: season, length of stay and the services offered.
HOTEL E B&B
For those who want total independence and a bit of extra comfort, accommodation in a hotel or B&B is definitely the best choice. A private bathroom, daily linen changeovers, and a gratis breakfast are just some of the services you can ask for in these many accommodating structures throughout the city. Whether you prefer to be in the heart of the city or outside its walls; whether it is a parking spot for those with a car; internet access; air conditioning; an elevator to the tops floors... tell us what your preferences are and we know how to suggest the most suitable situation for you.
Prices vary according to the category of structures, period and length of stay. For stays in high season, especially during the Palio, it is advisable to book as far in advance as possible.
GENERAL INFORMATION
Availability
Accommodations are generally available from the Sunday afternoon before the start of your course until the Saturday morning after the course ends. On advanced request, and at an additional cost, extra nights can be booked in addition, the availability may be definitively confirmed only 10-15 days prior to arrival.
Address
Address, phone numbers and details of the booked accommodation will be definitively confirmed 10-15 days prior to arrival. In case of booking in hotels, countryside stays or private apartments there may be extra time required.
Arrival
The school and/or the owner of the accommodation should be informed of student's scheduled time of arrival at least 3-4 days in advance and be contacted promptly in case of problems, sudden delays etc.
Linens
Housing costs are generally included, all utilities. Linens are provided and changed at least every two weeks, excluding towels.
Keys
The keys are delivered to the student, who may use them freely and at any time throughout their stay however, each student is fully responsible for their keys and may not loan them to others at any time. In the event of theft or loss, the student must immediately notify the owner and refund any charges for changing the lock etc.
Washer
There is a clothes washing machine in most of the accommodations provided through the school. During stays with a family, it is generally permitted for students to do one wash per week. If there is no washing machine in the accommodation or it is necessary to do wash more frequently, the student can take advantage of several laundries in the city.
Furniture
The rooms are furnished and equipped with everything guests need for a comfortable stay (wardrobe/closet, bed with pillows, reading light next to the bed , etc.). In shared apartments the use of the kitchen, complete with all the necessary utensils, is also included.
Cleaning
Each student is responsible for the cleanliness and tidiness of their rooms and the common areas of their selected accommodation and is responsible for any damage they have caused. In case of malfunctions or other problems, the student is required to promptly notify the owner.
Residential
Living with an Italian family requires decent flexibility and the ability to adapt to its ways, eating habits, and time schedule. Those who choose to live in a shared apartment must have respect for the habits and lifestyles of people from all over the world. For those who have allergies or special dietary requirements, we will do our best to find the ideal home for you, however we reserve the right to advise you, in these cases, to book an accommodation that will allow you greater independence because families may not always be able to meet your needs.
Guests
Students are not allowed to have guests at their booked accommodation, unless explicit authorization by the family/owner of the property.