Scuola Leonardo da Vinci offers customized Italian lessons on Skype to facilitate the learning experience of those students who are not able to attend lessons in our school.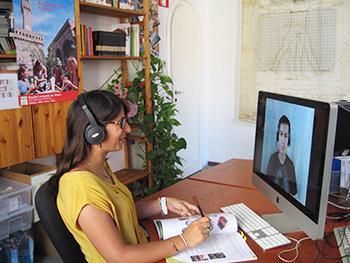 The lessons are conceived for those who wish to learn or improve Italian from abroad with the support of professional trainers as well as for those are already living in Italy, in need of a more flexible schedule and location.
The courses are also suitable for our old time students and for those who wish to continue their learning at home in their countries after their experience in our school.
Requirements: it's enough to have a broadband internet connection installed at home and a Skype account, as well as a webcam in order for the teacher to make the lesson even more effective, just like a normal face to face lesson in a classroom.
The lessons include conversation and didactic activities according to the preferences of the students. We are able to organize preparation lessons for official Italian certifications or lessons tailored on a specific professional subject.
Students should possess at least an upper elementary knowledge of Italian (A2 level).
Each lesson lasts 45 minutes. Our special offer:
For more information or to enroll, please contact us at the address: This email address is being protected from spambots. You need JavaScript enabled to view it.
Read about the experiences of our students!
The experience of Simone Dietrich

+ Name: Simone Dietrich
+ Country: Swiss
+ Course: Skype Lessons
My experience with the Italian language Skype lessons organized by Leonardo da Vinci school in Milan:
"Mi è piacuta molto la scuola a Milano, e faccio ancora le lezione di Skype. Oggi nel test ho fatto intermedio buono e avanzato discreto. Ecco già un miglioramento d'avanti ottobre. Sono stata due settimane in Milano e ho avuto 7 lezione di Skype e continuo sicuro fino 15. Lo staff è molto gentile e penso c'è da vero una buona idea."