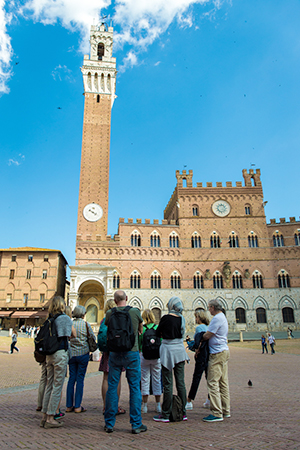 For those who love Italian and Tuscany, the Leonardo da Vinci schools are the best choice!
The Scuola Leonardo da Vinci first opened right in the heart of Tuscany, in Florence, in 1977. It is one of the most accredited institutions in the sector, with more than 40 years of activity.
Over time, other course locations have been implemented in Tuscany: the Italian school in Siena and the partner school in Viareggio
WITH THE LEONARDO SCHOOL, YOU CAN STUDY ITALIAN AND VISIT TUSCANY
The Leonardo da Vinci schools offer students the opportunity to study Italian in Tuscany, changing between the various schools. Indeed, with the "giro d'Italia" course, you can take part of the course at the school in Florence and a part at those in Siena and Viareggio. You can choose at least 1 or more weeks in the school of your preference.
Like this, you can visit more of Tuscany: Florence and Siena are good points of departure to discover central and southern Tuscany, while Viareggio is well located to discover the Tuscan coast and seaside.
From our school locations, you can also travel to the inland areas of Tuscany, to visit some of the most picturesque areas, towns and hamlets of Italy including: San Gimignano, Pisa, Montalcino, Lucca, Cortona, the Cinque Terre and many other charming villages and hilly destinations that are so characteristic of this region. Not to forget the wonderful areas along the coast or the islands of the archipelago.
Tuscany is home to the Renaissance. Here you can find the most important architectural and art works in the world, by Brunelleschi, Donatello, Masaccio, Botticelli, Leonardo da Vinci, Michelangelo and many others. Our schools organise tours throughout the year to discover the cities of Florence and Siena, to visit their museums and monuments and to get to know the surrounding areas.
Furthermore, between Florence and Siena, the Chianti hills and the landscape of Siena unfold, territories of inestimable beauty, known for the vineyards that produce some of the most famous Italian wines in the world, such as Ornellaia, Brunello di Montalcino and many of the Chianti DOCG.
The wines also go well with many of the typical products made in Tuscany, well-known for its salamis and cheeses, for the meat (the famous Florentine steak!) but also for the fish along the coast (dishes such as cacciucco alla livornese and baccalà).
Vegetarians and vegans should not despair, many of the typical Tuscan dishes have vegetables as their base (such as the famous ribollita, pappa al pomodoro or panzanella, recipes based on bread and the vegetables found in the winter or summer seasons).
So what are you waiting for? Book your language holiday in Tuscany!