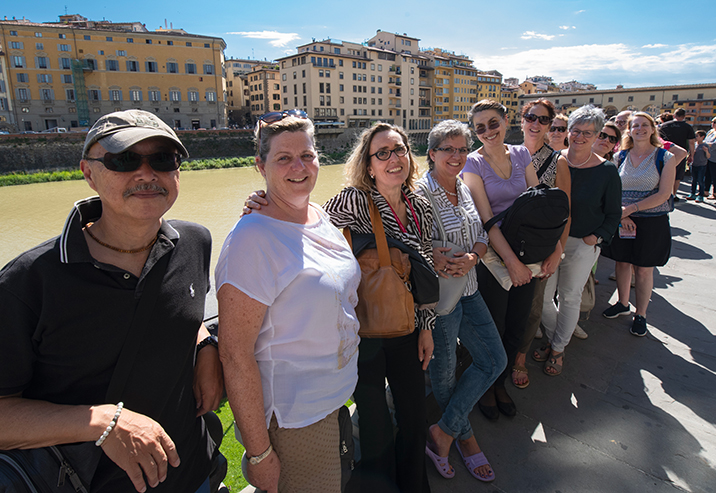 DOLCE VITA PROGRAM IN FLORENCE
DOLCE VITA PROGRAM IN FLORENCE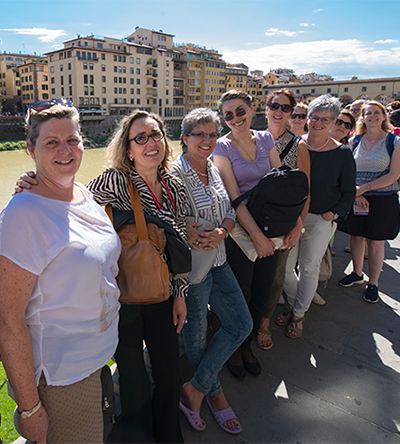 The "La dolce vita" course is particularly suitable for adult students who wish to refresh or deepen their knowledge of the Italian language and to enjoy an Italian holiday filled with enogastronomic encounters, cultural visits and excursions, providing the opportunity to experience the feeling of the Italian "Dolce Vita".
In the morning you will take part in the Italian language group lessons according to your level. In the afternoon or evening you will enjoy cultural activities scheduled by the school. Program subject to change.
1° week: afternoon program
Orientation tour of the city;

Guided History of Art visit;

Traditional Italian dinner in a typical 'Trattoria';

Tour of Artisan Workshops (Ceramics, Etching, Florentine paper, Shoemaker, etc.);


Half-day excursion to the vineyards of the 'Chianti' area, visit to a winery including 'merenda' (typical Tuscan afternoon snack).
2° week: afternoon program
The program of the One-Week-Course is followed by:
Day excursion in Tuscany (Siena or Pisa or Lucca);

Visit of Fiesole and the Roman Theatre or Visit of Renaissance Villas and Gardens;

Tour of Fashion Workshops or Shopping at an Outlet;

A lesson of Tuscan cuisine;

Visit of a Museum or a Palazzo;


'Apericena' (rich buffet with typical snacks)
LA DOLCE VITA COURSE STARTING DATES
Scuola Leonardo da Vinci - Italian language schools in Italy

DuratION
LeSSonS
PartIcipantS
price
Ask for More Information | Online Price Calculator | Enroll now
1 week
20 + Tour & visits
min. 3 students
€ 595
2 weeks
40 + Tour & visits
min. 3 students
€ 1.195
Short Description and Note

4 lessons of Intensive group language course per day; 20 lessons per week;
Visits and excursions in the afternoons;

Participants: min. 3 - max. 14 participants per group. If only 1 or 2 participants are enrolled, the school will shorten the number of activities in the afternoon:1 participant = 2 activities, 2 participants = 3 activities.

Scuola Leonardo da Vinci reserves the right to change some or all activities part of the Dolce Vita course due to COVID-19 restrictions or limitations imposed at any time.
A €70 enrollment fee valid for 12 months must be paid for any enrollment.

Course centers