Morning classes of Italian Language in international groups (6 levels available) from Monday to Friday combined with cultural classes and activities in the afternoon . Here you find the draft of the cultural sessions to be reconfirmed the week prior the beginning of the course.
1° week: afternoon program
Ancient Rome Guided Tour
.
Guided Tour at Vatican Museums included entrance ticket.
Visit to one of the famous market in Campo de' Fiori and eno-gastronomic tour.
Wine tasting.
Traditional Roman dinner.
2° week: afternoon program

The program of the One-Week-Course is followed by:
Full day excursion including guided visit to Viterbo and lab of artistic glass 
.
Guided Tour to Colosseum, Palatine Hill and Roman Forum.
Cooking class.
Guided Tour of Baroque Rome.
Guided Tour to Galleria Borghese including entrance ticket.
Visit to Roman Jewish Ghetto and traditional Roman-Jewish dinner.
Read about the experiences of our students!
The experience of Akemi Sakamoto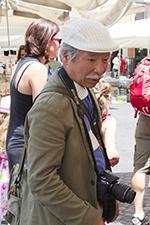 + Name: Akemi Sakamoto
+ Country: Japan
+ Course: Dolce Vita
My experience with "La Dolce Vita" Italian language and culture course inRome:
"La Dolce Vita was a course with a lot of lessons and activities. I didn't have much time to visit tourist sites but I had many opportunities to speak with local people. Goal achieved!".