In the morning you will take part in the Italian language group lessons according to your level.
In the afternoon or evening you will enjoy cultural activities suggested by the school. Program subject to change.
1° week: afternoon program
Guided tour of ancient Rome;
Ceramic laboratory visit and creation of own art work piece;
Wine tasting;
Guided visit of the Vatican Museums;
Typical Roman dinner
2° week: afternoon program

The program of the One-Week-Course is followed by:
Day trip to Tivoli's centre and visit of one of the Emperor's villas and gardens
Guided visit of some of the most famous historical sites (Coliseum, Palantine Hill, Forum Romanum, etc.);
Art gallery visit;
Street food tour in the center of Rome;
Guided visit of Contemporary Architecture (Auditorium and MAXXI Museum);
Sunset visit of the Jewish ghetto.
Read about the experiences of our students!
The experience of Akemi Sakamoto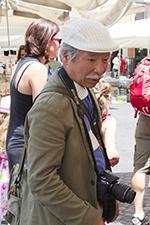 + Name: Akemi Sakamoto
+ Country: Japan
+ Course: Dolce Vita
My experience with "La Dolce Vita" Italian language and culture course inRome:
"La Dolce Vita was a course with a lot of lessons and activities. I didn't have much time to visit tourist sites but I had many opportunities to speak with local people. Goal achieved!".