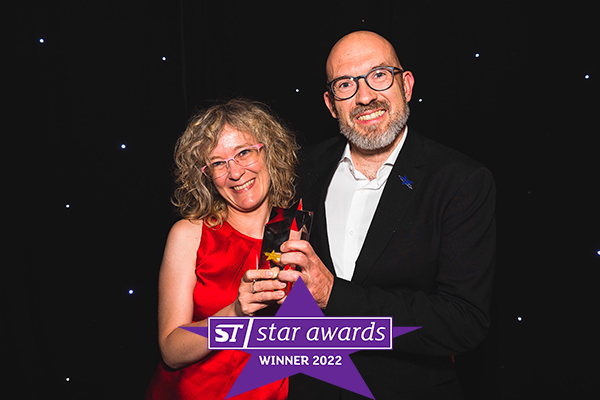 Scuola Leonardo da Vinci has won the 2022 "ST Star Award Italian language school" for the second year in a row!
The STAR AWARDS ceremony took place on the 3rd of September in the prestigious Grosvenor House in London, in the presence of hundreds of representatives of the study travel industry around the world. For the second time in a row, the Scuola Leonardo Da Vinci group has won the coveted award, which recognizes the excellence in the organization of language trips to Italy by agencies specializing in the promotion of this tourism/educational sector.
The award is sponsored by Study Travel Magazine, one of the most renowned magazines in the travel and education industry. The votes are assigned by study travel industry experts and specialist agencies.
We are very happy with this important prize because it is awarded to schools which stand out for the quality of the courses and services they offer. For us it is the recognition of the constant work we do to maintain the high quality of our study programs in Italy and online and to offer our students an exciting, complete and rewarding learning experience

The comments of the directors Chiara Avidano and Wolfango Poggi, who collected the award:
"The award ceremony was a truly exciting experience. It seemed to be at the night of the Oscars and there was an atmosphere of great joy because we were finally able to see many colleagues and friends in person again after these years of forced distance. It doesn't happen every day to participate in such a prestigious event and we had the responsibility of being ambassadors of Italy and of Italian style in the world. We hope to replicate"
Thanks to all those who made this success possible: the staff, our teachers, our loyal students, partners, collaborators, and all the friends who supported us in difficult times and to whom we want to dedicate this award!
GRAZIE!
Read the news on the Study travel website