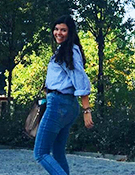 + Nome: Alessia Rivera Calleja
+ Paese: USA
+ Corso: Anno Accademico
La mia esperienza con il Anno Accademico alla Scuola Leonardo da Vinci di Milano:
"Il programma "Academic Year" mi è piaciuto molto. È una buena esperienza per poter conoscere la lingua e cultura italiana più profondamente.
I would highly recommend the program "Academic Year" I think it allows you to fully get to know the Italian culture and language."