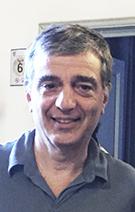 + Name: Alex Grasso
+ Country: United States of America
+ Course: History of Italian Art
My experience with the History of Italian Art course at Scuola Leonardo da Vinci in Florence:
"I attended the Corso di Storia dell'Arte to learn more about museums in Florence. I knew that it would be in Italian, and I might have difficulty with it. However, Monica is fantastic; Her Italian is extremely clear, her enthusiasm is contagious. It is easy to see that she knows and loves the Art of Florence and the Renaissance. She explained the significant details, and also, taught us many of the fun trivial items. She was thoroughly prepared. She is the best. I highly recommend these courses for any student who wants to learn more about some of the major art institutions, and also some of the lesser touristy. I cannot wait to return to Florence and take more classes with Monica."