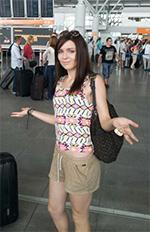 + Name: Alicja Kowalewska
+ Country: Poland
+ Course: Professional Italian Course
My experience with the Professional Italian course in Milan:
"With the intensive course we have many opportunities to speak and express in Italian language with foreign people who become friends quickly. It's the first time in my life I want to stay at school as long as possible. I always go to the school with pleasure. Every year, I leave many memories and feelings should not be forgotten".