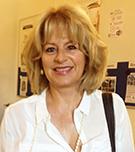 + Name: Conny Ernst
+ Country: Swiss
+ Course: Dolce Vita
My experience with "La Dolce Vita" course in Florence:
"I can highly recommend this course at Scuola Leonardo da Vinci, especially when traveling alone in Florence. La Dolce Vita program provides many appealing excursions and you will get to meet many people.
Donatella, who is a teacher at the school and also the guide of the excursions, has a lot of experience, and is always ready to answer your questions.
Many thanks to all for the unforgettable memories here in Florence.
Yours Sincerely, Conny"