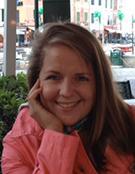 + Name: Elena Safonova
+ Country: Russia
+ Course: Sabbatical Year
My experience with the course Sabbatical Year in Milan:
"Ciao, I'm a student of Scuola Leonardo da Vinci. I studied there for 7 months and now, thanks to the school, I speak Italian very well. I found many friends and knew Milan very well. I must say that teachers are professionals and they know how to teach well! The lessons are very interesting and always different. Free time at school is organized so fun and exciting. There are many excursions, almost every day. We went many times even to the bars, discos, restaurants, etc. Almost every weekend the school organizes a trip to another town near Milan. The teachers behave like friends and always help you so much! Now I am very happy to have chosen Scuola Leonardo da Vinci to learn Italian and have fun in Italy".