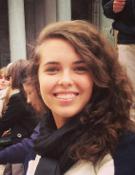 + Name: Flora Tinoco Da Cunha Valle
+ Country: Brasil
+ Course: History of Art
My experience with the course History of Art in Rome:
"Eu sempre tive uma voluntade muito grande de aprender italiano e conhecer mais a cultura italiana. Parte do meu encanto com Roma è caminhar e a cada esquina me deparar com obras de arte e arquitetura . Estudar história da arte na escola foi o complemento ideal para fu poder aproveitar o que via, a aula me deu olhos para compreender o que está na minha frente todos os dias. Agora fu posso reconhecer os períodos da arte que se destacam na cidade e posso dizer que conheço Roma com outra intimidade"