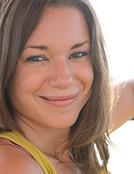 + Name: Sara Brzuszkiewicz
+ Country: Italy
+ Course: DITALS preparation course
My experience with the DITALS preparation course in Milan:
"I attended the preparation course for the Ditals exam in January 2012 and I still recommend it to anyone who asks me what is the best way to get really prepared for the examination. The content transmitted by the trainers and the material provided were clear, efficient and stimulating, they were structured so as to include all the crucial points of the discipline that is the italian teaching of L2/LS. The course also has the irreplaceable value of having Italian teachers as trainers who take in classroom direct evidence of fieldwork in contact with students, their transmitting the passion for teaching, providing straight and describing contexts varied in a perspective that only a great experience and a well-rounded preparation can offer."