DRAWING AND PAINTING COURSES PROGRAM - FLORENCE SCHOOL
During the drawing course, students will learn how to use different materials, among the others, charcoal, sanguine (reddish drawing chalk) and pencil. In addition, they will have an introduction to the use of tempera, oil painting and acrylic colors. Using these materials, students will learn to portray still-life paintings and the human body, the latter with real models in person. They will practice copying famous artworks in order to exercising the techniques they learnt and, as a result, they will begin express their ideas and create their own style.
Other painting courses offered in our Florence school are:
OLD PAINTING TECHNIQUES
This course will give students the chance to enter the world of painting techniques belonging to the period between 14th and 16th century through the analysis of the most important artworks of such a period, from Giotto to Michelangelo. Students will learn the techniques through the study, the analysis and the reproduction of famous paintings with egg tempera, gold leaf and oil colors. The whole paintings' creation process will be analyzed and practiced, from the preparation of supports to varnishing.
CONTEMPORARY PAINTING TECHNIQUES
The course is conceived in order to teach students facing the new artistic languages, using new support materials (plastic, specific kinds of canvasses, wood and metals) and painting techniques, from traditional colours to the use of mixed techniques, such as colour application with sponge, spatula and roller. The combination of new supports and painting techniques will help students to develop a new language and their personal painting style.
---

DRAWING AND PAINTING COURSES PROGRAM - MILAN SCHOOL
The Leonardo da Vinci school in Milan offers a design and painting course, which is held in a marvelous workshop only five minutes walk from the school. The painter has much experience and so much passion, which she is always able to use to help students. Normally lessons start with design, as it is always considered to be the base for all forms of artistic expression. In fact, a good design itself can be considered a finished and complete artistic work. The following step is introducing colour. It is necessary to know how to do various different techniques, to then be able to freely select the most suitable form of expression.
All of the above is summarized in the following program:
Development of design with pencils: representation of shapes and their proportions.
Learning of light and shade to give volume to the subject, using hatching.
Introduction of colour using pastel and and clay techniques.
Watercolour techniques. An undervalued technique, but a difficult one, which if done well gives excellent effects.
Introduction to acrylics and how to use them.
Work on canvas. Oil painting: an adaptable and versatile technique which allows a vast range of colours to be used.
Read about the experiences of our students!
The experience of Marlene Fries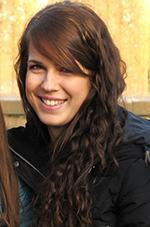 + Name: Marlene Fries
+ Country: Germany
+ Course: Drawing and Painting
My experience with the Drawing and Painting course in Milan:
"During my stay in Milan I attended the art course run by Marina. I told the school that I'd like to take part in some form of design course and they arranged everything for me. I just wanted to have a practice in different design and painting techniques and that is exactly what I got. At first, we learned some basics of drawing and then Marina showed me how to paint with watercolors and oil painting. Without help me much she always gave me the right advice. She is a very kind and patient woman, who loves her job, and you can see it in her beautiful gallery. It always worth to visit her small studio which is located two blocks from the school. I'm really glad I had the opportunity to work with her as a professional in Milan!"