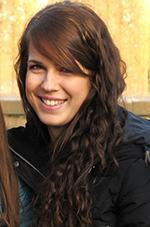 + Name: Marlene Fries
+ Country: Germany
+ Course: Drawing and Painting
My experience with the Drawing and Painting course in Milan:
"During my stay in Milan I attended the art course run by Marina. I told the school that I'd like to take part in some form of design course and they arranged everything for me. I just wanted to have a practice in different design and painting techniques and that is exactly what I got. At first, we learned some basics of drawing and then Marina showed me how to paint with watercolors and oil painting. Without help me much she always gave me the right advice. She is a very kind and patient woman, who loves her job, and you can see it in her beautiful gallery. It always worth to visit her small studio which is located two blocks from the school. I'm really glad I had the opportunity to work with her as a professional in Milan!"