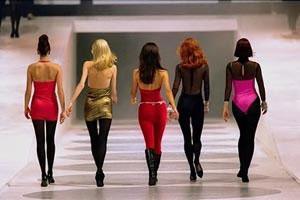 The course consists of 4 lessons in a Intensive Language Course plus 2 private tutorials on the language of fashion, each day.
This theory course is dedicated to those who are interested in the world of fashion as a hobby or for professional reasons. As in all thematic courses, this one aims not only at providing knowledge of the language of fashion, but also at improving the student's general knowledge of the Italian language on the basis of the didactic principle that the things that interest us are much more easily assimilated.
The program focuses on the language of this important sector of the Italian economy and culutre, aiming at providing students with the basic vocabulary and technical expressions that are most often used. After identifying the basic technical vocabulary and expressions, the student is helped to assimilate them through targeted exercises and discussions. On the request of the student, guided visits can be arranged to shops, fashion producers, fashion museums and designer studios.
The course is conceived for all students who have an intermediate level of Italian language.

Topics that may be discussed during the course:
Natural fibers
Artificial fibers
Synthetic fibers
Other materials
Fabrics
Sizes and measurements
Brands and labeling
Sweaters
Intimate wear
Accessories
Furs
Leather and shoes
Technologies and clothing production
Design
Designers and fashion houses
Fashion shows
Marketing
Distribution
Trade fairs
Since the material is extremely broad and cannot be covered in a thorough manner in the few available lessons, students may begin the course by planning with the instructor a program with a narrower focus on the basis of their needs, with a concentration on only several topics. In particular, if a student needs to increase his or her expertise in a specific area for professional reasons, we recommend that he or she inform us before arriving in order to give the instructor sufficient time to prepare a specific program with selected texts. For example, if a student works for a clothing producer that buys fabric in Italy, the course may focus on types of natural and artificial fabrics, methods of production, dyes, identification of the fibers used to make the fabrics, in particular mixed-fiber fabrics, the Italian system of piece production, Italian import-export law, the main trade fairs, etc.
Students of the "Academic School Year" programme will be introduced to the language of Fashion in 12 lessons, selecting a part of the above mentioned programme.