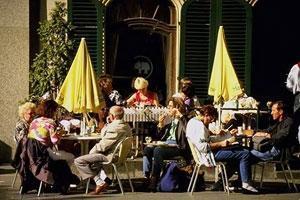 This course consists of 4 lessons in a Intensive Language Course plus 2 private tutorials on the language of tourism, each day.
The course is dedicated to students who are interested in the language of tourism for professional reasons, for example those who work in information offices, travel agencies or for tour operators. The program focuses on different areas of the tourism sector, aiming at providing students with the basic vocabulary and professional expressions that are most often used. The topics are presented in several ways: with topical readings from manuals used in vocational schools, as well as the analysis of advertising brochures, hotel forms and newspaper articles about tourism. After identifying the basic technical vocabulary and expressions, the student is helped to assimilate them through targeted exercises and discussions. On the request of the student, guided visits can be arranged to hotels, travel agencies and places of interest for tourists.
Topics that may be discussed during the course:
Travel programs, types of offers, travel contracts
Information and transportation and hotel services
Making and receiving reservations
Methods of payment
Providing information on topics of interest for tourists
Tourism brochures
Tourism boards: local tourist offices, consortia, etc.
The market of tourist products
Analysis of tourism in Italy
Analysis of the areas of tourism in Italy
Detailed analysis of a center of tourism: Florence and Tuscany
Tour operators and organized tours
The tourism of meetings and congresses
Tourism marketing
National work contracts
Since the material is extremely broad and cannot be covered in a thorough manner in the few available lessons, students may begin the course by planning with the instructor a program with a narrower focus on the basis of their needs, with a concentration on only several topics. In particular, if a student needs to increase his or her expertise in a specific area for professional reasons, we recommend that he or she inform us before arriving in order to give the instructor sufficient time to prepare a specific program with selected texts. For example, if a student works in a travel agency, the course may focus on subjects regarding reservations, selling package tours, with practical and simulated exercises, etc.
Program example:
"Market of tourist products": Description, the under-13 market, teenagers, under-26, business trips, mass tourism, the vacation market, the seaside market, the mountain market, the farmhouse market, lakes, hot springs, national parks, hiking, cruises, senior citizens, families, groups, the congress market, the cultural market, language courses, trade fairs, etc.
The course is conceived for all students who have an intermediate level of Italian language.