ITALIAN LANGUAGE COURSES IN ROMA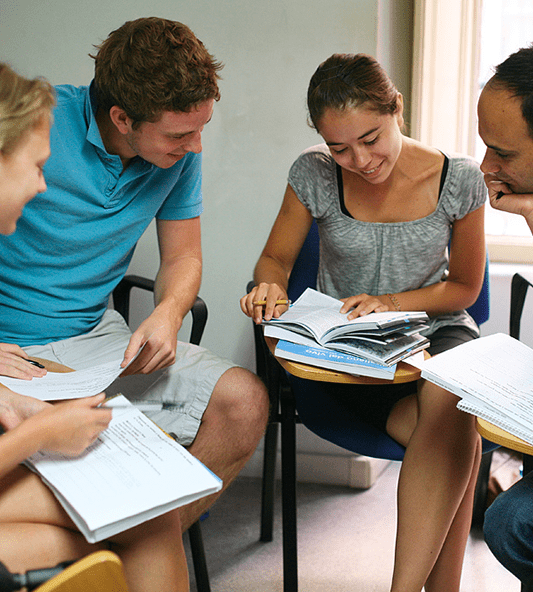 Since 1977, the Leonardo da Vinci school has offered a vast and comprehensive array of Italian courses:
Language courses, for those who have either decided to learn Italian from scratch or for those who are already familiar with the language but would like to refine their communication skills. Our language courses span six levels, all of which include various activities and exercises, conversations and games designed to help you learn to communicate, speak and write like an Italian.
Cultural courses, for those who are fascinated by the art, cinema and cuisine of the Bel Paese. From the Dolcevita to the secrets behind the great masterpieces of the Italian peninsula; from typical regional cuisine to the tasting of Italian wines, and much, much more. Discover Italy with us.
Professional courses, for those who need to become specialized in particular language areas and technical vocabulary.
Academic year: learning by living in Italy for those who want to know the cultural and social realities of contemporary life by partaking in it themselves.
Italian certifications. The Leonardo da Vinci School organizes preparation courses necessary to achieve Certifications of competence in Italian: Diplomas of language Florence, at any level, providing you with all the tools necessary to master the contents of the exam you plan to take.
University programs. The school collaborates with various study abroad programs on behalf of several US universities. Within these programs, the school organizes and coordinates and teaches their Italian language and culture course offerings.
We guarantee a maximum of only 14 students per class so as to optimize the level of student-to-teacher engagement as well as the quality of our courses.
We would now like to highlight some special courses offered at our school in Rome in addition to reminding you that you can also kick off your studies at home through our online courses.
Look at our offer of Italian courses and remember that you can also start studying from home with our Italian language ONLINE courses.
IN ROME, TO STUDY IN THE ETERNAL CITY
Discover Rome during your study holiday at the Leonardo da Vinci school!
Our courses and activities that we organize for your free time are aimed at making you know and fully experience Italian culture.
The location of the school will also make it easy for you to combine visits to the sites and monuments that have made Rome one of the most famous cities in the world!
Discover the Italian language, culture and lifestyle, experiencing it firsthand, with the Leonardo da Vinci school in Rome.
Study Italian with Scuola Leonardo da Vinci!
Italian language courses in Rome and Online
The Scuola Leonardo da Vinci® offers Italian courses which are suitable for all needs and all levels.
You can study either at the wonderful location in the center of Rome or comfortably from home with our online courses. Moreover, we offer courses to visit Rome, while you're learning Italian. And, don't forget that we organize many activities for your free time from courses (such as dinners, excursions, visits, etc.)
Take a look at the following links:
SCUOLA LEONARDO DA VINCI ROME
Officially authorized by the Italian Ministry of Education.
Company Name: Scuola Leonardo da Vinci Roma srl
VAT Number: IT01539331007
Address: Piazza dell'Orologio 7 IT - 00186, Roma, Italia
Telephone: (+39) 06-688.925.13 - Fax: (+39) 06-682.190.84
Whatsapp: +393662441949
Messenger: scuolaleonardorome
email: This email address is being protected from spambots. You need JavaScript enabled to view it.
Skype: learnitalianrome
Map: Google Map - Contact: click here
To learn more about the city of Rome, its history, cultural life and for further information, we suggest you AboutRoma.com, the tour guide of Rome completely online. Here you can find all the information about Rome.
CONTACT US FOR MORE INFORMATION