LEARN AND GO IN ROME! DISCOVER ROMA WITH AN ITALIAN LANGUAGE TEACHER AS A GUIDE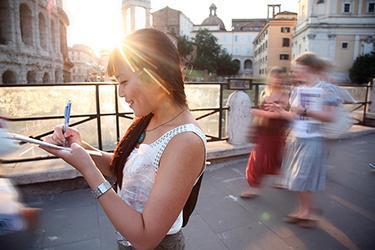 You will be accompanied by an Italian language teacher, specialized in art History, who will guide you through the most important Roman monuments and will introduce you to the Italian language and culture.
DURATION: 3 hours
LOCATIONS: An Italian Caffetteria / Piazza Navona / Pantheon / Via Giulia / Saint Peter's Square
DESCRIPTION: Your adventure begins with a lesson on the "Philosophy of 'Caffe'," held in a typical Italian 'caffetteria' where we will enjoy breakfast together. Then comes an insightful walk around the historic center of Rome, guided by your Italian "instructor". This enlighting excursion will take you for a dip into the past, touching the Renaissance and Baroque time periods, and introduce you to present-day Rome where you will be able to paint with your mind, a colorful Roman fresco that exhibits the key to understanding the pure "Italian way". Together we will create a real experience "doing what Romans do" in the heart of the Eternal City!
NOTES: Minimum one Participant
COSTS:
Price for 1 person: Euro 120
Price for 2 persons: Euro 75/person
Price for 3 persons: Euro 55/person
MORE INFORMATION: