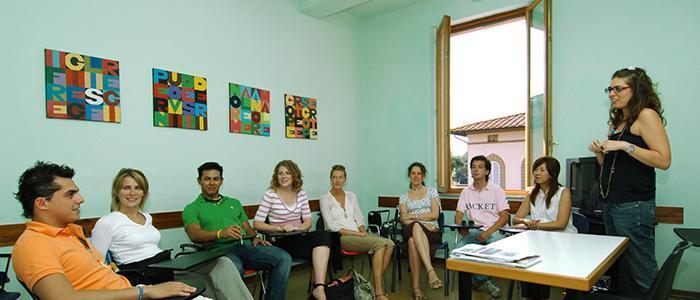 The super-intensive Italian course is our intensive course of 4 Italian lessons a day, together with 2 extra group lessons a day, giving a total of 30 Italian lessons a week.
The lessons are held Monday to Friday in groups made up of no more than 14 students. The lessons are led by different teachers, who deal with both the formal and more communicative aspects of the language.
The lessons start each Monday for students that already have some knowledge of the Italian language and each two weeks for students that are absolute beginners.
The super-intensive Italian course, due to its 2 extra hours of lessons, helps to quickly develop the practical, communication abilities of the students, dedicating special attention to the communicative aspects of the language.
If your aim is:
to speak in a more fluent and precise way, to widen your vocabulary, to feel more confident in your communication with others and to improve your understanding skills, and to achieve all of this in a short time, this is the ideal course for you.
Classes are composed of people from all over the world and from different age groups ().
RECOMMENDED FOR: those students who want to learn or improve their skills in the Italian language through an even more intensive program that aims at reaching the improvement goals in the shortest time as possible.
The 6 daily lessons still leave more than enough time to participate in the many extracurricular activities organized by the school.
Have a look at our city by city programme.
Read about the experiences of our students!
The experience of Jana Černohlávková

+ Name: Jana Černohlávková
+ Country:Czech Republic
+ Course:Superintensiv
My experience with the course "Super Intensive Italian language course" in Milan:
"I have been at Scuola Leonardo da Vinci in Milan for 4 weeks. I managed to meet a lot of people and, in the same, to improve my Italian. I chose this school because it really takes care of students, whether you need to change your class, to move or to modify your lessons schedule. They are very kind and help you in everything you need. The lessons are really interesting, interactive, combining oral speech and grammar. I am happy for my choice, it was a great experience."