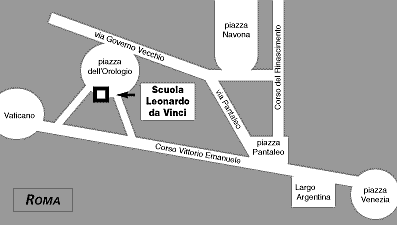 Informazioni utili per raggiungere la nostra scuola di italiano a Roma
Scuola Leonardo da Vinci is located in Piazza dell'Orologio no. 7., right in the historical center of Rome.
By train
There are two companies which offer fast train connections: Trenitalia (www.trenitalia.com) and Nuovo Trasporto Viaggiatori (www.ntvspa.it). The Trenitalia fast trains arrive at the central "Roma Termini" station (and from here there are many buses with connections all over the city), whilst the fast trains of NTV arrive at the new Tiburtina station (reachale from the city center by the B metro line and several bus lines).
- From the Termini station, you can get to the school using the 64 and 40 buses, getting off at the "Chiesa Nuova" stop.
- From the Tiburtina station, you can get to the school using the B metro line (direction Laurentina), getting off at the Termini station stop. Then, from there, you can take the 64 or 40 buses, getting off at the "Chiesa Nuova" stop.
By plane
Rome has two airports - the international Fiumicino Leonardo da Vinci (FCO) airport and the international Ciampino G.B. Pastine airport.
The Fiumicino airport is linked to city center by two different types of train:
a) Regional trains leave every 15 minutes, making a series of stops, and arriving at the Roma Trastevere station in around 30 minutes. To get to the school from the Trastevere station, you can take the number 8 tram until Largo Argentina, and from there take one of the many bus lines which go to Piazza della Chiesa Nuova.
b) The Leonardo Express leaves every 30 minutes and brings youin approximately 30 minutes to Termini station. It is direct and does not make other stops.
The Ciampino airport is linked to the Termini station by numerous bus shuttle services, run through various transport companies.
By car
The school is located in the historical center, which is a limited traffic zone (ZTL). As such, cars are not permitted to drive in this area from 06:30 to 18:00 from Monday to Friday and from 06:30 to 12:00 on Saturdays. In Rome, it is quite easy to find garages and parking spaces (you must pay to use them), though we still recommend using public transportation when in the city center.
Transfer to accommodation
For a fee, the Scuola Leonardo da Vinci offers a transfer service from the airport or the railway station, to your accommodation. This must be booked in advance. The school uses an independent transport company for this service. A driver will meet the student at the airport exit or at the train platform. If you would like to request this transfer service you must inform the school of this, upon enrollment, or at least one week before your arrival, at the absolute latest. You must inform us of the date and time of your arrival and the number of your flight or train. Click here for more information.