ITALIAN LANGUAGE COURSES IN MILAN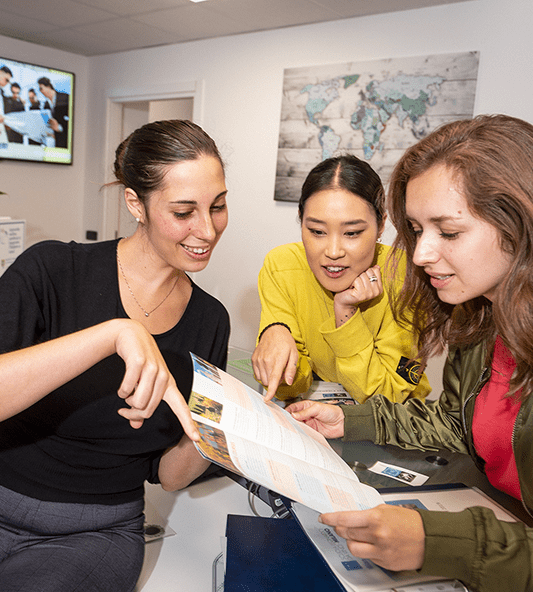 On this page you can find out all information about Italian language courses at our school in Milan.
As in all of the Leonardo da Vinci schools, Italian lessons are held by teachers with Italian as their mother tongue, who are specialized in the teaching of the language to foreign students. From the first day, you will speak only in Italian! For more information about our teaching methods, lessons, ability levels, teaching programs, teaching material, education and training, diplomas and exams, click here.
We guarantee a maximum of 14 students per class, to optimize the quality of the courses.
You can also start studying from home with our Italian language ONLINE courses. Take a look to our offer.
STUDY IN MILAN, THE CAPITAL OF CREATIVITY AND ITALIAN LIFESTYLE
Milan is the capital of fashion and design, a city that goes fast, with its prestigious universities and its centers of excellence, its skyscrapers, always ready for innovation, but it also knows how to slow down, between a walk on the Navigli, an "aperitivo" in the Brera district, a visit to the Duomo or the "Last Supper" painted by Leonardo da Vinci.
Milan is an ideal city for an Italian course, it will conquer everyone with its liveliness.
Leonardo da Vinci School organizes leisure activities to introduce you to each different soul of one of the most important Italian cities.
Study Italian with Scuola Leonardo da Vinci!
Italian language courses in Milan and Online
The Scuola Leonardo da Vinci® offers Italian courses which are suitable for all needs and all levels.
You can study in our modern premises in the centre of Milan or from the comfort of your own home with our online courses. Moreover, we offer courses to visit Milan, while you're learning Italian. And, don't forget that we organize many activities for your free time from courses (such as dinners, excursions, visits etc.)
Take a look at the following links:
SCUOLA LEONARDO DA VINCI MILAN
Officially authorized by the Italian Ministry of Education.
Company Name: Scuola Leonardo da Vinci Milano srl
VAT Number: IT04484970969
Address: Corso di Porta Vigentina, 35 IT - 20122, Milan, Italia
Telephone: (+39) 02-8324.1002 - Fax: (+39) 02-8942.5256
Whatsapp: +393207482179
Messenger: scuolaleonardomilan
email: This email address is being protected from spambots. You need JavaScript enabled to view it.
Map: Google Map - Contact: click here

Contact Scuola Leonardo da Vinci school in Milan via WhatsApp
CONTACTS:
This email address is being protected from spambots. You need JavaScript enabled to view it. (managing director - languages spoken: English - Español - Srpski)
This email address is being protected from spambots. You need JavaScript enabled to view it. (managing director - languages spoken: English - Français - Srpski)
This email address is being protected from spambots. You need JavaScript enabled to view it. (front office, general enquiries, enrollments - languages spoken: English - Spanish - Russian - French)
This email address is being protected from spambots. You need JavaScript enabled to view it. (housing, accountant, general enquiries - languages spoken: English - German)
This email address is being protected from spambots. You need JavaScript enabled to view it. (front office, general enquiries, enrollments - language spoken: English - Español)
This email address is being protected from spambots. You need JavaScript enabled to view it. (leisure time, social media manager, general enquiries - languages spoken: English - Polish - Russian - Chinese)
This email address is being protected from spambots. You need JavaScript enabled to view it. (didactic director - languages spoken: English, Spanish)
Want to know more? Discover the city of Milan, its history and its cultural life with About Milan: a tourist guide to Milan completely online. Here you will find information about what to do and what to see in Milan.
CONTACT US FOR MORE INFORMATION