LEARN AND GO IN MILAN! DISCOVER MILANO WITH AN ITALIAN LANGUAGE TEACHER AS A GUIDE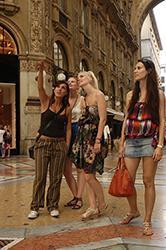 You will be accompanied by an Italian language teacher, specialized in art History, who will guide you through the most important Milanese monuments and will introduce you to the Italian language and culture.
DURATION: 3 hours
LOCATIONS: An Italian Caffetteria / Piazza Duomo / Via Montenapoleone / Brera / Navigli's district
DESCRIPTION: Your milanese day starts with a lesson on the "Tasting of 'Caffe'," held in a typical Italian 'bar' where we will enjoy breakfast together. Then comes an insightful walk around the historic center of Milan, guided by your Italian "instructor". You'll be lead inside the "quadrilatero della mods" where the most known fashion companies have their boutiques and shops and pass through the characteristic bohemian Brera district. Afterwards a relaxing walk through via Torino, Porta Ticinese and Piazza XXIV Maggio looking at the beautiful and historical buildings that lead to the Navigli, the water canals that Leonardo Da Vinci improved with a system of dams.
NOTES: Minimum one Participant
COSTS:
Price for 1 person: Euro 120
Price for 2 persons: Euro 75/person
Price for 3 persons: Euro 55/person
MORE INFORMATION: