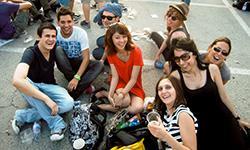 Scuola Leonardo da Vinci in Milan is open all summer long! Our Italian language courses continue during the hottest months of the year and will be combined as usual with a wide calendar or free time activities and events organized in Milan to allow you to have a fuller taste of the Milanese summer.
You will be able to choose among a wide variety of Italian group courses, private tuition, cultural courses and preparation to university entrance exams. Our courses will make it possible for you to get to know our beautiful language, with en emphasis on its day to day communicative aspects.
Whilst learning Italian you will be able to take advantage of the calendar of free time activities offered by our school and of the many interesting events organized in Milan during your stay. Summer is the best period to learn Italian together with other foreign students from all around the world, learn the basis of a new language and make the most out of the entertainment available during the summer.
So why not spending the long summer afternoons relishing the sun in one of the many swimming pools of Milan? The options are many, especially for outdoor swimming pools. The entrance is charged a small fee and includes the access to all swimming pools of the sport facilities. The closest one to the school is Piscina Argelati, located at few meters from our school, which is a well organized bathing resort open every day from 10:00 am to 7:00 pm.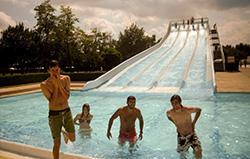 You will be surprised to know Milan has a sea of its own!
The "Idroscalo", also called the sea of Milan, is a big artificial water basin equipped as a normal seaside resort during the summer months. The opening times are every day from Monday to Sunday, from 10:00 am to 8:00 pm to keep you cool during the sultry summer days.
After the end of a busy day learning Italian and sunbathing, Milan moves at the rhythm of south American music. Latinoamericando Festival is a consolidated tradition of the summer nights in Milan during June, July and August since it attracts every year hundreds of spectators who dance to the songs of well known south American and caribbean artits.
Genres such as Cuban Salsa and Meringue, Bachata an Reggaeton will make you dance in a carefree and cheerful atmosphere. Latinoamericando gives also a possibility to taste exotic meals: various south American and caribbean restaurants will be installed temporarily during the event to offer participants a bite of specialties of the Mexican, Brazilian and Caribbean cuisine.
For those addicted to rock music, Milan happens to host one of the best rock festivals in Europe with its second edition of the City Sound Milan Festival. A rich programme of rock concerts will take place from June 10th to July 31st in the beautiful setting of Ippodromo del Galoppo with the participation of many international artists such as Iggy Pop, Korn, Kiss and many others. The prices vary according to the concerts and are sold online other than in the authorized ticket stores of Ticket One and Viva Ticket.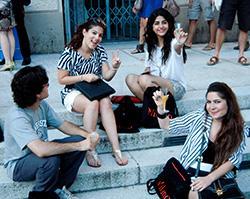 Milan's summer nightlife keeps offering a wide choice of pubs, restaurants and clubs who give their best especially during the weekend, such as the Old Fashion. Scuola Leonardo da Vinci in Milan takes part in the student night organized by this club every two weeks and the students totally love it! A nice happy hour is usually organized as well as music entertainment to enjoy the night with your classmates and friends. Special events are held every night by other clubs, which are much loved by our students.
If you don't really like dancing and prefer to spend the evening with your friends you should consider a tasty happy hour. Scuola Leonardo da Vinci in Milan is indeed located in the best area for finding a wide choice of bars and pubs offering the famous Aperitivo: the Navigli area is the best location for a night with your friends, a romantic dinner, or a late stroll to enjoy the fresh night breeze.
Discovering Milan during the summer is like tasting a refreshing cocktail, colourful and delicious! Our Italian language courses will guide you through the learning of our day to day language to make the best out of a modern and dynamic city, rich in events and pleasantly summery.